Being a 90s kid, I have a lot of fond memories of playing with some of the most iconic 80s toys.
Sure, 90s toys were great, and I had a lot of the best N64 games to kick back with towards the end of my first decade, but there is, and always will be, something special about those early games, figures, and gadgets.
With exciting, iconic characters lighting up television sets and cinema screens, and advertising companies making 'the coolest adverts' known to humankind, the 80s was a time where nerds could really shine.
While parents were listening to Duran Duran and starting karate after watching Mr Miyagi do his stuff, the kids of the world were getting in some serious playtime.
Gaming was on the rise, and some of the world's most influential brands were hitting the scene by force, paving the way for the toys of the future (deep, right?)
All of the items on our 80s toys list below can still be bought today via the wonders of Amazon and eBay (we still have all of them on show in the Retro Dodo offices!).
Some you might have owned, and some you might have forgotten existed all-together.
But it doesn't matter whether you were born in the 80s or just a twinkle in your mothers eye; everything you need to understand this exciting era can be found here in our top 10 greatest 80s toys list.
What are you waiting for; scroll down to check out Number 1 already!
1. View Master
They might have been around since the 1950s, but the View-Master was one of the most popular 80s toys ever, bringing our favourite movie scenes to life or transporting you to some of the best scenic landmarks in the world with the push of a button.
Images were housed on a white circular disc and viewed through the View-Master unit, a red plastic set of binoculars that were kind of like the VR headsets of the day.
I can remember checking out the Jungle Book on my set when I was a kid, and you can still pick these up from Amazon!
The 1980s also saw a portable projector version springing onto toy-store shelves, but the original will always be the best.
2. Atari Gaming System
You knew it was going to be in this list somewhere, and here it is.
Considered by many to be the console that started it all, the Atari 2600 was one of the best-selling 80s toys of the decade and is still popular among retro gaming enthusiasts today.
Gaming might not seem like that big of a deal in a world where anyone can get online and join in a massive multiplayer event with ease, but the Atari changed the way that games were played forever.
It brought everyone's favourite titles out of the arcade and into their living rooms to be enjoyed whenever the feeling took them.
Pac Man, Space Invaders, E.T; they were all there, including the six other launch games that you could play on this super console.
The Atari 2600 has sold well over 30million units in its lifetime, and it's popularity isn't about to decrease any time soon. Pick up an Atari Flashback unit below!
Nerd Fact – This console had a cost of US$199 when it first came out, which is equivalent to $839.6 today. That's one expensive toy!
3. Transformers
How do you make robots cooler? By making them disguise themselves as vehicles or planes, that's how!
The next entry on our list of the best 80s toys should be well known to most people by now thanks to Shia Lebouf and Megan Fox bringing the franchise to the big screen back in 2007.
But the 80s phenomenon was popular in comic and figurine form way before that, with our favourite Autobots and their leader Optimus Prime starring in their own cartoon series and taking their place in toy boxes all over the globe.
Which was your favourite, and would you be an Autobot or a Decepticon?
4. Star Wars Figurines
Nothing says '80s toys' like a plastic Chewbacca. It's more than 40 years since George Lucas first brought Luke Skywalker to our screens, and the franchise is still going strong to this very day (depending on your view of the new movies).
Apart from being incredibly collectable as I write this in 2020, the toys from the original series were incredibly fun to play with (I was never one of these people that kept toys in the boxes).
Toys are for playing with, a line which I may have quoted from Toy Story.
You can still get your hands on some of the original characters from films 4, 5, and 6, as well as modern-day figurines of Rey and Kylo Ren. C
Click the link below to add Bossk to your vintage collection!
5. Lite-Brite
Hasbro knows how to make items that kids will go crazy for, and Number 5 on our list of the best 80s toys was no exception.
Lite-Brite was born in 1967, but it was the 80s where this light-up marvel really shined (that was terrible, even for me).
The premise was pretty simple; users would slot plastic pegs into a lightbox and make illuminated pictures using either pre-cut templates or their own imaginations.
It was one of the most exciting bits of kit that I can remember playing with in the earlier years of my life and a gadget that my mum and I spent hours making brilliant (terrible) pictures on.
You could even get hold of 'colour by letter' templates to make some of the other characters mentioned in this 80s toys list.
Not bad for a few bulbs and some plastic, right?
6. Waterful Ring Toss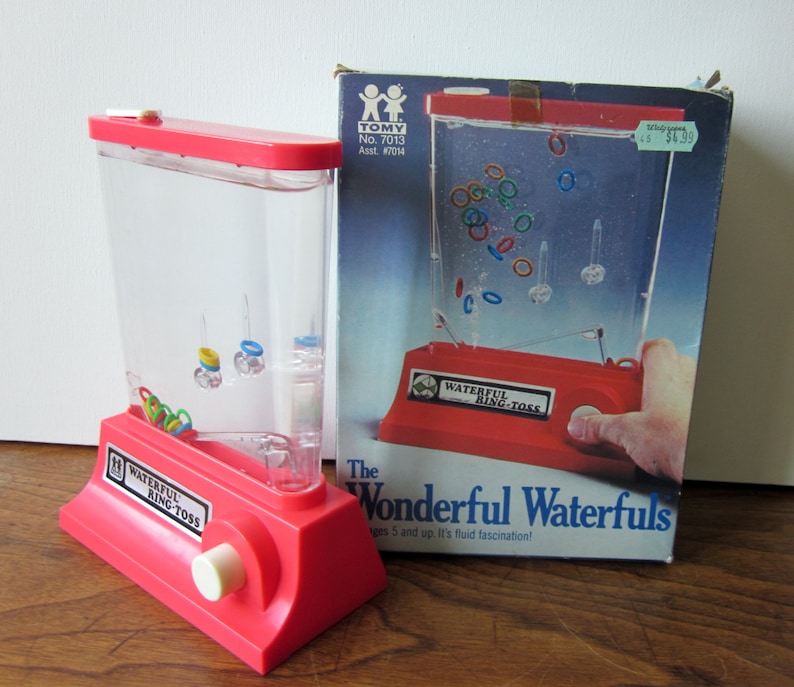 You might spend all of your time playing with the best Retropie handhelds or cruising through your favourite levels on the best GameBoy Color games, but the Waterful Ring Toss was undoubtedly one of the first handheld gaming devices on the planet.
Ok, so the Atari Lynx might have been the first one with a screen and actual electronic components, but nothing keeps you coming back for more like the thought of getting all of those rings onto a set of plastic spikes.
Push a button, create a gust of air, and send plastic rings hurtling through the water in a bid to become the ring toss champion.
It might not be Space Invaders, but it's just as addictive!
Click below to get an updated version with 6-interchangeable arcade games!
7. Rock 'Em Sock 'Em Robots
This next entry on our list of the best 80s toys has featured in so many films and T.V shows over the years that it could be feasibly used to describe the entire decade.
By pressing two buttons with more speed than a racing Cheetah, players could control the fists on their chosen robot in a bid to knock the other players head off their plastic-droid's body.
Think of it as a budget version of Mortal Kombat meets Pacific Rim, with a hint of WWE thrown in for good measure.
When we have a tough day at the office or tensions are running high, we usually sort out or differences in the Rock 'Em Sock 'Em ring – the rule of the robot is law!
8. Lazer Tag
We've all played Laser Tag in some form, and we all know that it's one of the coolest 'real life' multiplayer games of all time.
The 'Lazer Tag' that takes the Number 8 slot on our list of the best 80s toys must have been incredible for kids of the day; to watch films like Star Wars with space-age blasters and then be able to use your own would have blown any kid's mind.
Lazer Tag used infrared beams to trigger receivers in a futuristic star vest and could be played anywhere.
Users needed two sets and it was pretty pricey, so the number of kids that actually had one in your area might have been pretty low.
Still, there's nothing that says you and your adult mates can't grab a set, buy a few beers, and head out onto the moors for a Star Trek battle of epic proportions.
Set infrared rays to blink, guys!
9. Kong Man
Some of you might have played Sonic Mountain as a child, but Kong Man was where the high-intensity, mountain climb game format first came to light.
This battery-operated game was seriously tough, and more than once I had to choose between stepping away from it or throwing it through the window.
Players had to move a magnetic ball through a serious of obstacles while climbing to the top of Kong Man's kingdom.
Magnetic swings, moving steps, chutes, slides; this thing had it all, and to top it all off, the whole thing would stop moving if you didn't get to the top within the time limit.
Talk about a stressful situation!
10. Gameboy
This last gadget needs no real introduction. If there was one reason why we started Retro Dodo, then the GameBoy would undoubtedly be it.
It's what started our love for gaming and our obsession for collecting as many handhelds as humanly possible, and it remains one of the most influential consoles of all time to this very day.
The classic GameBoy just made it into our list of the best 80s toys with its 1989 release date, a year that saw it being the most sought after Christmas gift the world over.
You can mod it, you can accessorise it, and you can even play the games on your T.V using the Retron Jr, but the original will always be the best.
If you haven't got one in your collection, then click below and sort it out!
11. Rubiks Cube
Christmas 1980 was a memorable time for kids all over the world.
It was the first day they would come to know the feeling of defeat brought on by a small plastic cube with a difficulty level higher than life itself.
From that last sentence, you've probably realised that I have never finished a Rubiks Cube. I just don't have the patience to see it through.
Many people have done over the years, and this colourful cube was the best selling toy at the start of 1980s.
The only people I know who have finished them have followed an internet guide on how to do it!
The Rubiks Cube has seen a boost in sales recently thanks to kids flipping them around on Tik Tok and making me angry with their skills.
One day you'll do it Seb…one day.
12. Koosh Ball
2000 natural rubber filaments fused together to make a seemingly indestructible ball…
… What's not to love!
These three-inch balls were originally designed to be thrown around in indoor spaces and to get some energy out of hyperactive kids.
Since the 80s, people have been using these fuzzy throwers as stress balls, sport, and for children with special needs.
The Koosh Ball is said to encourage fine motor development and strength, improve focus and creativity, promote tactile exploration, and combat stress.
Who would have thought that one of the best 80s toys for messing around would go on to have so many uses!
I reckon we could do with a few of these the next time Brandon calls a meeting!
13. Magic 8 Ball
Will I pass my exam? Does she fancy me? Will I write for a retro gaming magazine when I'm older?
Two of those three were things that I know I asked a Magic 8 Ball back in the day (I'll leave you to guess which ones).
Ask any question, and the Magic 8 Ball will give you an answer. It's basically an oracle from Greek Mythology crammed into a tiny plastic ball.
It doesn't matter whether you want to ask a deep thought or a light-hearted query; the ball never judges.
Shake it, turn it upside down, and get your own personal fortune. It's like all the fun of a fortune cookie without having to eat the cookie.
Result!
14. Speak and Spell
Like many of the toys in our lists of the best 80s toys and 90s games, Speak and Spell was immortalised in the Toy Story franchise.
Kids went crazy for this early word learning game. And the best bit was that they didn't even realise that they were learning!
Speak and Spell revolutionised reading and word memory. It featured a built-in word list of 150+ words to help kids get over the tough areas surrounding spelling development.
You could even expand the lists with extra plug in cartridges!
15. He-Man And The
Masters Of The Universe – Grayskull's Castle
Is there a better 80s phrase than 'I HAVE THE POWEEEERRRR'?
Last but not least on our list of the best 80s toys is this epic Castle Grayskull set from Mattel.
It has tonnes of hidden tricks and secrets, and it's the perfect toy for anyone who watched the He-Man series as a child.
Like Power Rangers figurines in the 90s, He-Man characters were incredibly sought after.
If you thought some of the rare NES games were expensive, then you'll be surprised to know that a Savage He-Man figurine can sell for $1'000.
Not only does he have the power, but he's also in the money too!
BONUS – 16. Retro Game 350
You might not be able to play Lazer Tag or Kong Man on the Retro Game 350, but if you're a fan of the best GameBoy Games or enjoy kicking back with your favourite Atari classics, then this handheld game emulator would be the perfect gift to give yourself (or a loved one if you're feeling generous).
This affordable handheld can play all of your favourite games from retro gaming past, and at only $80 dollars, you can't afford not to give it a go.
The Retro Game 350 can play all of your favourite titles from the Gameboy, SNES, NES, Gameboy Advance, Sega Mega Drive, MAME, Neo Geo, FBA, Wonder Swan and even Playstation 1 games. It comes with a bright 3″ screen and can be hooked up to your TV.
You can even play your favourite multiplayers on the big screen with external USB controllers too. Grab one below!
More Content From The Retro Dodo Team!