Here's the moment that you've all been waiting for; we've finally made a list of the best GameBoy Advance games of all time!
If you consider yourself to be a true Nintendo fan and a lover of all-things handheld gaming, then you should definitely have played some of the titles in this list, and if you haven't, then now is a perfect excuse to stop whatever your doing and to go out and hunt them down!
From collecting coins around the Mushroom Kingdom to picking up notes in Spiral Mountain, we've listed 20 of the best games that this portable purple console has to offer.
The notion of a GameBoy with a larger screen and horizontal grip-style might not seem that exciting now, but it blew my mind when it first came out. The console felt so cool with its shoulder buttons and pocket-sized build.
And just when it seemed as though things couldn't get any better, Nintendo threw the SP into our hands, back-lit, folding, with no need for one of those stupid sperm lights when playing in the dark.
Nintendo sold 81.5 million GBAs, and with over 1,500 games to choose from, the chances of you ever getting bored are pretty slim. So which of those 1'500 titles have made the cut? Scroll down to find out!
20. Kao The Kangaroo
Some of you might be thinking, 'huh?', but this game was one of my favourite titles back in the day, and I'm allowed to put nostalgic titles in this list because I'm the one writing it (N.B this might be the point that I'm sacked from my job, but it's worth it for Kao).
It's a game about a Kangaroo who punches and hops his way to victory; what's not to love. I like to think of Kao the Kangaroo as being like Marmite; people either love it or hate it so much that it makes them physically angry. For me, it was a classic game with nice graphics, an easy to follow plotline, simple controls, and it proved to be good fun.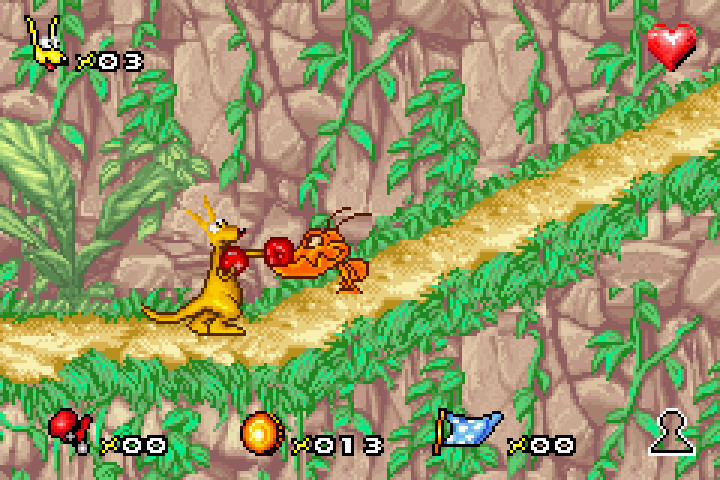 The gameplay style of Kao is kind of a cross between Crash Bandicoot and Donkey Kong Country. Players must guide our boxing-friend back to his homeland so that he can rescue his family, battling hordes of enemies throughout 27 different levels.
This kangaroo can fly, snowboard, and jet-ski, as well as having one mean right hook. Honestly, you can pick this game up on eBay for around £4; give it a go and let us know what you think!
19. Banjo Kazooie – Grunty's Revenge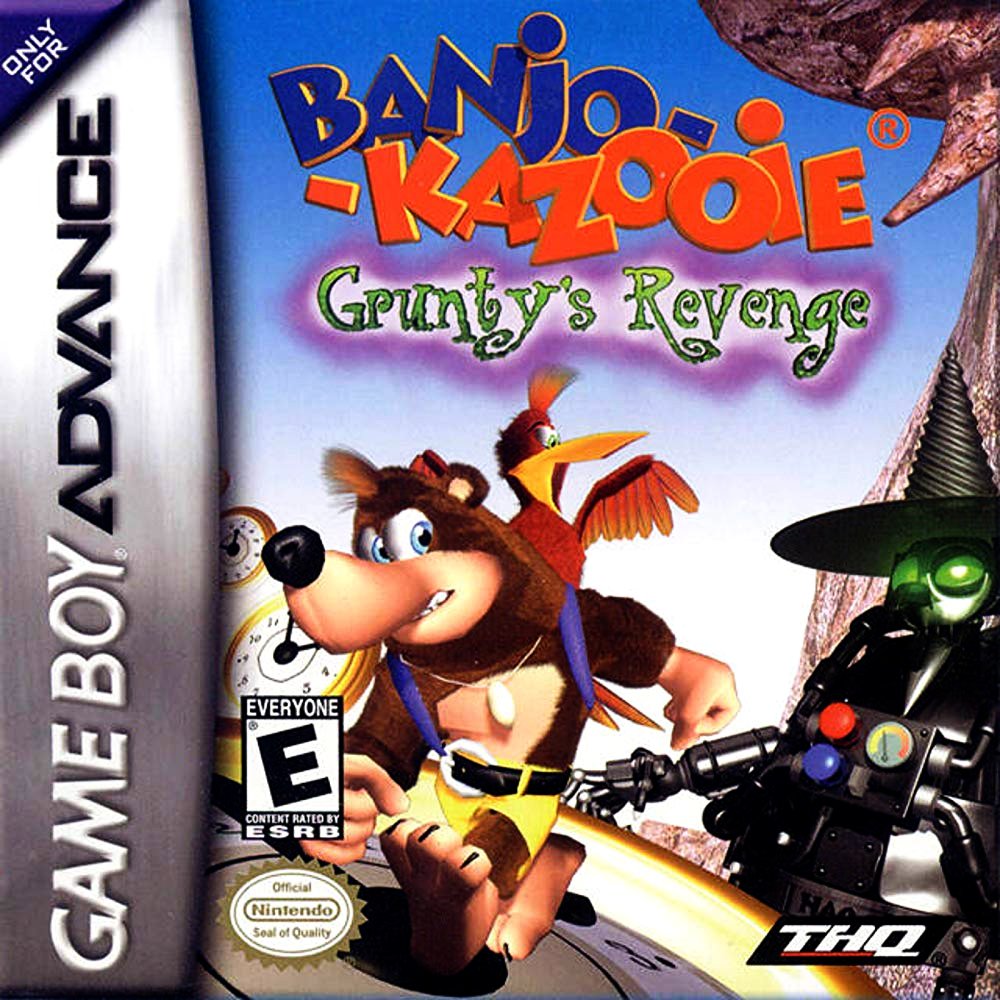 This game is not only underrated, but it's also the last time that we see our favourite bird-and-bear duo in a classic title, an authentic Banjo-Kazooie game on a handheld device and the last adventurous outing that the pair took before moving to the dark side and messing around with nuts and bolts.
The game takes place between Banjo-Kazooie and Banjo-Tooie (two of the best N64 games of all time!) and sees the evil hag Gruntilda heading back in time in a bid to try and stop the events from the first game ever happening. You've got to hand it to her, she's nothing but determined!
This time Grunty has only gone and captured Kazooie as well, leaving Banjo to head out on his own to save her. Now we really get to find out which one of them is the brains of the business.
Grunty's revenge was 2D rather than the 3D adventures on the N64, but it had all of the key elements that made the first two games such a massive hit, as well as some new characters from Bottles the Mole's past to help you along your way.
It isn't a hard game and the graphics aren't cutting edge, but any adventure around Spiral Mountain is one that shouldn't be missed. Do us all a favour and peck Gruntilda back into line; she's getting a bit too big for her dead boots.
18. Harvest Moon: Friends Of Mineral Town
Next up on our list of the best GameBoy Advance games is a firm fan favourite. Some of you might have played it or might currently be playing it on the Wii-U Virtual Console. You might even have it in your Switch as I write this. It's classed as many as being the best in the Harvest Moon series, and it's a credit to the GBA.
For those of you that haven't played Harvest Moon before, you are in for a real treat. The game revolves around a character who has to make a profit from a farm. You get left the farm by an old dude who has since 'popped his clogs'. Now he's dead, you're the boss. ,
One of the things that makes this game so great is all the different levels of interaction that you can have. Different choices that you make will alter the game too. Marry, and you get a son. Interact with others, and you can pick up recipes. Don't take good care of a horse, and it's taken away from you.
Aim of the game – be a nice farmer and look after your friends. That's plant, animal, and human friends.
You have to make money by growing crops and rearing livestock. The player starts off with a selection of tools and can upgrade them after earning some dollars. It's all the fun of farming without leaving the sofa.
17. Advance Wars
From gentle farming to all-out warfare. You can't say that this list of the best GameBoy advance games isn't diverse!
If you're the first person to reach for Risk or Stratego when your friends call a board game night, then you'll love Advance Wars. It's a tactical turn-based game, with opposing sides attacking each other with mind-bogglingly awesome weaponry.
This is one of the only games that I can remember which had a tutorial section that I actually enjoyed following. You don't need to spend hours combing the manual to figure out all of the different attacks or weapon types. It's super simple to play, and addictive as hell.
Advance Wars has been listed as one of the greatest video games of all time. That's not bad for a title that was never supposed to leave Japan! You follow the commander of the Orange Star army who has been wrongly accused of picking a fight with the rest of the world.
In true 'shoot first, ask questions later' style, you have to lead the Orange Army to victory, battling the Commanding Officers of the enemy armies who try to take you down. The different terrains and battle styles are well thought out, and you'll soon be shouting 'TAKE THAT' out loud before you know it.
16. Mario Golf Advance Tour
Role-Playing golf? Yep, that's exactly what this next entry in our list of the best GameBoy Advance games offers.
Most people will already know all about Mario Golf. It swaps the normal sights of the golf course for the madness of the Mushroom Kingdom, and your mission is to work your way through the ranks to receive the honour of challenging Mario.
But what's the Role Playing bit all about? Well, there's an 'overworld' where your chosen character, (boy or girl human player) can move around and interact with other golfers etc. You have to get to the four main courses/clubhouses and work your way up the ranks.
Other players can be unlocked for team and multiplayer action, and you can even use a special ticket to get a custom club made. Fancy, right! This game can also be linked up to Mario Golf: Toadstool Tour on the GameCube via the GBA link (one of the best GameCube accessories).
15. Sonic Advance
I'm a huge Sonic fan. I also love playing as Knuckles the Echidna, because he's just as fast and twice as gnarly. Sonic Advance was the first Sonic the Hedgehog game ever to be released on a Nintendo console and the start of a glorious age where plumbers and hedgehogs finally worked side by side.
They even set up their own Olympic Games!
The premise of Sonic Advance is very similar to the other games in the Sonic Series. Collect rings and the seven Chaos Emeralds. The difference this time is that Dr. Robotnik has gone, and his nephew Dr Eggman is the new antagonist.
This side-scrolling platformer has everything that I love about Sonic titles. It's fast-paced, the graphics look quintessentially 'Sega', and you can play as Tails, Knuckles, and Amy too. There are six zones, each with two acts just like back in the good old days.
With over 1.21-million units sold, it's safe to that Sonic Advance was a huge success. It's over with a little too quickly, but what else would you expect from a character that runs everywhere at breakneck speeds all of the time. If you're a fan of the series, then you need this game in your life.
14. Wario Land 4
Who would have thought that Mario's arch-nemesis would have gone on to have such a popular series of games eh! Gamers went crazy for Wario's strange antics and his obsession for finding treasure, and this game became an instant classic.
Some people think black cats are bad omens. If Wario thought this too, then he wouldn't end up following one and getting trapped in a pyramid at the beginning of the game. Here, he finds four passages leading to four different worlds.
The levels are arranged in order of difficulty but can be completed in any sequence. One of the things I've always loved about these games is the strange array of moves and Wario's ability to harness enemy abilities for his own gain.
There is plenty of mad action in Wario Land 4. Fans of the series won't be too surprised by the content, but they'll certainly be relieved that it's a lot better than Wario Land 3! The graphics are crip, the soundtrack is perfect, and the adventure is fantastic!
13. Kirby & The Amazing Mirror
Looking a lot like Link holding a smartphone, Kirby takes the next spot in out list of the best GameBoy Advance games. It's time to leave King Dedede and Dream World behind as we step through into a mirror world. It once made wishes come true but is now full of evil.
Remember Meta Knight? Well, there's a dark version of him that splits Kirby into four separate Kirbys. He then defeats the real Meta Knight and smashes the Amazing Mirror into fragments.
Why don't these bad guys ever make it easy for the good guys, huh!
This game has all of the usual Kirby antics and actions. There's lots of puzzle-solving and item collecting to work your way through, with sub-bosses and bosses to contend with along the way. Expect Warp Stars and lots of exciting objects that will change and enhance the way you play.
One of the exciting things about this game is that it's basically set out like a maze. You can choose to go whichever way you want first, making it a little like an open-world title. It's bright, it's fun, and it's got Kirbys holding cellphones.
What more do you need to know?
12. Fire Emblem
We're flying over to Elibe for the next game in our list. Fans of the Smash Bros. series will no doubt have played as Roy and Marth at some stage over the years. Their inclusion in the franchise, as well as the success of Advance Wars, is what prompted Fire Emblem to be released in the West and go on to become such a huge success.
Fire Emblem is a tactical role-playing game. Think of it as Nintendo's own Final Fantasy series (although Nintendoids will tell you that it's way better).
There are lots of epic battles, characters with mythical-sounding names, treasure chests, and family conflicts. Oh, and there are dragons too. That's the recipe for a perfect RPG right there, and Fire Emblem certainly doesn't disappoint.
So, if you remember wondering who the heck Marth was when a 'new challenger' approached in Smash Bros., then take a trip back to where things began for us Western gamers. It's definitely a title that needs to be in your collection.
11. Tony Hawks Pro Skater 2
Fifa and Fortnite might be two of the biggest names in today's gaming world, but back in the GBA days, Tony Hawks was the king of extreme gaming and almost everyone had one of his titles in their collection.
Fans of skateboarding who were too chicken to kickflip off a set of stairs in real life (yep, that was me) could bust out some kick-ass moves on their favourite handheld without having to worry about broken bones. You could pull off all of your favourite tricks from the original game and even listen to shortened instrumental versions of your favourite tracks to get you in the zone.
The GBA port of Tony Hawks Pro Skater 2 had all of the main features of the home console version without the multiplayer or level editing options. The simplified controls made it easy to play on the go, and the graphics were pretty good for the time too.
Making a 2D game with an overhead perspective look as though the characters are actually jumping up halfpipes and ollieing off ledges is impressive, so this title more than deserves a place in our list of the best GameBoy Advance Games of all time
10. WarioWare Inc: Mega Microgames
Who would have thought that a game with the weirdest bunch of characters led by Wario, of all people, would go on to be such a huge success and span over four consoles!
Losing his yellow plumbers outfit in exchange for some pink slacks, cut-off denim jacket, and a biker helmet was it all it took for Wario to become a party animal, and we can't thank him enough for trying his hand at something new instead of pestering Mario.
Wario Ware Inc: Mega Microgames is one of the best GameBoy Advance games for kicking back after a long day and competing against yourself at impossibly unfathomable minigames that would be too dangerous to try and make sense of.
If this console had been sold with the title 'play 3-second mini-games with a bulbous nosed ex-plumber and a weird alien with a member on its head', then I probably would have moved on and bought a book instead. Thankfully, I don't work in Wario's marketing department, and I'm even more thankful that this game proved to be such a huge success.
These fast-paced games will have you laughing, crying, shouting, sighing, jumping for joy and eventually crying again all in the space of around 35 seconds. You show me any game that can give you that much value for money!
9. Golden Sun/Golden Sun: The Lost Age
No Retro Dodo 'best games' list would be complete without an RPG to sink your teeth into, and the next title on our list of the best GameBoy Advance games has such an enthralling storyline that you won't ever want to put it down.
Nintendo has had mixed success with it comes to games following on from one another; the fabled Banjo-Kazooie and Banjo-Tooie connection never came to be on the mighty N64, a fact that racked up a big bill every time I rang the Nintendo hotline about that blasted ice key (100% true story).
Golden Sun and The Lost Age need to be played in succession to fully understand the storyline; think of it as being like the two parts of the last Hunger Games movie, except the first game isn't mind-numbingly dull and pointless and the second game isn't a re-hash of the first…you follow?
The player must head out on a mission to try and stop the magical powers of alchemy from being released throughout the world of Weyard. Turn-based play, collectables, new and exciting powers and intriguing characters make this story one that you will be itching to play on your way home from work.
Golden Sun ends almost on a cliffhanger, so make sure that you have both games before you set off on your adventure. It's a colourful title embued with magic and mystery, and a game that deserves to be in our list.
8. Castlevania: Aria of Sorrow
Epic music, side-scrolling skeletons, and dangerous dungeons. I'd say we're about to step into another Castlevania title!
Aria of Sorrow is the third and final GBA game in the series, and it's also the best. Castlevania dominates the action/RPG genre and continues to do so today. The combination of mind-bending puzzles with terror-inspiring enemies (slight over exaggeration) is a surefire winner. Plus, the characters and storylines are always super memorable.
Aria of Sorrow sees a young character names Soma take to Dracula's castle for more horror-fuelled action. Dracula died back in 1999 when the Belmont Clan finally put an end to his devious ways. But now it's 2035, the year that the prophecy says his reincarnation will return to the castle to rule.
There are various characters that Soma must interact with and battle against as he progresses through the game. In true RPG style, character attributes such as attack-points and magic can be levelled up as you progress through the game. It's a bloody good game (pun intended) and one that does justice to the saga.
7. Yoshi's Island
I'm a big fan of the next title in our list of the best GameBoy Advance games. I played Yoshi's Island when it was on the SNES, and I loved being able to play the handheld version when it came out. This thing was never out of my GBA SP!
Back in the day, this artistic style was very different to the pre-rendered styles of Donkey Kong Country and Earthworm Jim. The GBA graphics are lighter and brighter, but still capture that exciting feel of the original home console version.
Normally Mario is telling Yoshi where to go, but this time it's Yoshi's turn to do the leading. After Baby Mario is separated from Baby Luigi by that meddlesome Kamek, the Yoshis of Yoshi's Island must work together to reunite them.
This game was the first title to show Yoshi's signature flutter jump and his ability to turn enemies into eggs. It also features my favourite Nintendo character of all time; Shy Guy. There are lots of collectibles and puzzles to solve, and the game itself is joy to play right from the moment you turn on your GBA.
6. Mario & Luigi: Superstar Saga
The next title on our list of the best GameBoy Advance games of all time is one that I continually played and replayed for years, proving that it's a title that deserves to be in this ultimate compendium.
Mario has proved his worth in lots of different games over the years and shown that he is more than capable of heading up a game on his own. But things are always better when you do them as a family, as Luigi is all-too-keen to point out in this turn-based attack game that requires true brotherly intuition.
The enemies in this game take a fair beating, and you'll need to use all of the crazy solo and 'bros' attacks to whittle their health down to zero. Its an RPG with a difference, and that difference is the comedy dialogue between Mario and Luigi.
The graphics are bright and enjoyable, the gameplay is so well thought out that you won't want to put it down, the interaction between the characters is spot-on, and the special moves that the two plumbers can pull off will leave you amazed. If you buy or try one game on this list, make sure it's this one; you won't be disappointed.
5. Metroid Fusion
Not only is Samus the most gnarly heroine on the planet (or any other planet for that matter), but she's also one of the most powerful and fearless characters in the Nintendo franchise. Her job is to travel through outer space killing deadly enemies and various versions of Ridley that just don't seem to want to die; that beat's working in an office any day of the week!
Metroid Fusion, like its predecessors, is a side-scrolling, open-world adventure game with plenty of puzzles, shooting, space-age battles, and weird-looking enemies. Samus has to defeat infected foes to obtain parts of her power suit and lost abilities, but she still looks super awesome on the front cover!
What more is there to say about Metroid games; they're an institution. From the GBC to the DS, these games are fun to play on any platform and have a playability factor that for outlasts the recommended completion time.
If you're after a futuristic shooter title with a compelling storyline for your portable powerhouse, then give Metroid Fusion a try; there's a reason why it's in our list of the best GameBoy Advance games, after all.
4. Super Mario Advance
Super Mario Advance isn't a new title. It's a remake of Super Mario Bros. 2 and also includes the original Super Mario Bros. arcade game. It is, however, an incredible remake featuring richer graphics and better designed backgrounds.
Not to mention the detailed improvements to the characters themselves!
You can play as Mario, Luigi, Peach, or Toad in this side-scrolling Mario classic. Each character has different abilities that give are useful in different situations, And unlike other Mario games, enemies must be defeated by throwing things at them such as radishes.
There are twenty levels to play through, all of which are spread throughout the game's seven worlds. In true Mario fashion, each of these worlds has its own obstacles to overcome. You know there's just going to be an icy world where you slip-slide around, and a desert level with that annoying quicksand!
All of the usual suspects return as enemies to defeat, including Shy Guy who is moonlighting in a few games in this list. The inclusion of the Mario Bros. Arcade game (one of our best MAME games) is a nice touch too. While it doesn't have the same 'can't put down' factor as the main game, it's still good to kick back with while reliving the 'golden age of gaming'.
3. Pokemon Emerald/Ruby/Saphire
We've given you three of the best GameBoy Advance games ever for the price of 1 here!
With Pokemon fever spreading across the globe once more after the release of Pokemon Sword and Shield, it seems only right that we pay homage to these three amazing pocket monster titles. Emerald, Sapphire, and Ruby changed the way that we play Pokemon forever.
If you're new to the series and have been loving the double battles, abilities, and options to improve your Pokemon's nature while playing Sword or Shield, then you have these three games (and Game Freak) to thank for them.
A lot of people dislike the fact that you couldn't bring Pokemon from Gold or Silver into the game, but sometimes you've got to let go of the past and just enjoy the new. Pikachu and Pinsir can't be your go-to warriors forever you know!
The battles run primarily in the same style as Red and Blue, apart from the aforementioned changes, and the gameplay is, as you would expect from a Pokemon game, truly awesome. If you missed any of these games, then I URGE you to go back and give them a try. Put your Switch down and go back to where some of your favourite features began.
2. The Legend Of Zelda – The Minish Cap
If you've read my articles before, then you'll know how much of a Zelda nerd I am. So believe me when I say that it was a close call between this title and the game that took the Number 1 spot in our list of the best GameBoy Advance games ever.
The Minish Cap is one of the few titles that Nintendo didn't develop, with Capcom taking up the reigns and trying their hand at creating an adventure for our green-garbed hero. The gameplay is perfect, bringing the best parts of Links Awakening and A Link To The Past together and mixing them with some fresh and exciting ideas that take Link to a-whole-nother level.
That level is, thanks to the Ezlo the Minish Cap, super small. Link can now shrink down and visit the world of the Picori, exploring new places that he wouldn't have been able to reach had it not been for the cranky friend atop his head.
It's a nice idea to give Link's hat a persona of its own, and one that Mario would go on to adopt in Super Mario Odyssey. It's a Zelda game, which means that you have to play it if there's any hope of you reaching enlightenment. Give it a go, and tell us what you think!
1. Mario Kart: Super Circuit
It had to be, didn't it? Mario Kart is, and always will be, one of the best games that Nintendo has ever made and a deserved winner of the top spot in our list of the best GameBoy Advance games ever made.
You might not think that the first portable outing of Mazza and the gang is such a big deal, what with Mario Kart Tour now available for pretty much every smartphone under the sun, but it is…was…you get the idea.
The game was a huge success, and the fact that you could play Mario Kart on the bus, at the back of the classroom, or with your mates at the park was just out of this world.
Mario Kart: Super Circuit had some great tracks and all of the usual suspects available as racers. The graphics were great, the gameplay was even better, and the fact that you could link up with your mates for 4-player action topped the whole thing off nicely.
Players could race around 20 new tracks and the original 20 tracks from the very first Super Mario Kart game too, making this a must-have for fans of the series. It might not look as crisp and as clear as Mario Kart 8, but it's a great title and one that changed portable racing forever.
Everyone loves Mario Kart because it's so simple to play, that's why it's at the top of our list, and it's here to stay!
More Content From The Retro Dodo Team!