It's incredibly hard for me to make a list of the 10 best GameCube accessories because I'm a massive fan of them all! As a self-confessed Nintendo nerd, I bought the GameCube on the very first day that it came out. I saved up my hard-earned cash after having read about the new console in Nintendo Magazine for months and couldn't wait to try out Luigi's Mansion and Smash Bros!
I've had three of these consoles during my lifetime so far; the original purple when it was first released, a black replacement when the laser on my first one broke from overplaying years later, and finally a purple console once again for my 28th birthday.
I already had a lot of the best N64 games, but my collection of the best GameCube games was something to be marvelled at. Rows upon rows of plastic cases stacked high in my attic games room, everything from Double Dash to Pikmin, F-Zero X to Twilight Princess.
I had some great days with this console, and most of those were with friends cramped on the sofa beside me
The GameCube got multiplayer right, with so many incredible titles such as Mario Smash Football, Smash Bros., 1080 Avalanche, Quidditch World Cup – the list goes on and on. It was the perfect console for kicking back and relaxing with mates, although there were often fights to be in control of items number 2 and 5 on the list below!
I said earlier that it was hard to make a list of just 10 of the best GameCube accessories, and that's because compared to the best NES accessories, of which there were around 100 wild and wacky ones to choose from, the GameCube had far less but much more useful gadgets that you could use to pimp up your favourite console.
Nintendo ditched the idea of power gloves and theremin style sci-fi controllers and opted for stuff people would actually buy – a good move in my opinion!
Right, enough word count filler – let us get into the heart of the article, the belly of the beast, the best GameCube accessories of all time! (That's another twenty-eight words right there…thirty two now…)
1. Joytech Flip Up Screen
The Gamecube was already already a pretty portable machine (it had a carry handle on the back for crying out loud), but there were always bound to be times where you wanted to carry on playing Super Mario Sunshine while your parents wanted to watch the news or some boring programme on antiques. Nintendo might have first officially brought about the idea of switching from 'on-screen' to 'portable mode' with the Wii-U, but this Joytech TFT snap-on screen was the first example of a Nintendo home-console being made 100% self sufficient – providing you had an electricity supply of course!
The screen itself looks a little like a giant GameBoy Advance SP, as noted by our illustrious leader Brandon in the video above. The device has been colour matched to the console's signature indigo theme, and the 5.6 inch screen is bright, has a good colour output, and is big enough to see all of your favourite games without having to sit with your face pressed up against it. It's powered from the GameCube's power supply and connects into the AV out port. If you live with a partner who likes to binge watch bad TV or just want to be able to play your favourite console in bed, then this is a cracking bit of kit!
2. WaveBird
'Bagsy the WaveBird!' is a phrase that will forever be followed by memories of 'Falcoooon Kick' and 'Why have you thrown another blue shell at me you (insert swearword)'. I loved this thing so much and can remember walking around the house with it to see how far away from the TV screen I could play. I had two of these back in the day and recently sold one for quite a lot of money on eBay! It was the first wireless play experience that I had ever had, and being able to sit away from the confines of a wire felt liberating (maybe liberating isn't the right word, but it still felt great!).
The WaveBird used AA batteries for its power and sent signals to a BT receiver that plugged into the GameCube controller port. Each receiver had a frequency that you could use to tune into your individual controller so that more than one device could be used, but my mates used to change the setting whenever I was winning (choose your mates wisely, guys). Despite being a little bulkier, the controller fit perfectly in the hands and was a great accessory. I think it actually made me say 'wow' out loud when I first opened it – yes, I'm surprised I managed to get a girlfriend too.
3. Competition Pro Combat Arcade Joystick
From one controller that revolutionised multiplayer gaming to another that brings the feel of the arcade straight into your living room. The next gadget on our list of the best GameCube accessories is one of the beefiest controllers I've ever seen; it's wider than the GC itself! If you prefer button mashing on coin-operated machines, then this is the accessory for you.
The Combat Arcade Pad has all of the GameCube controller buttons laid out in two rows, making frantic tapping an absolute breeze. This device has A,B,X,Y buttons as well as two Z buttons and two 'top trigger' pads, the massive anaolg stick, and the usual Start and Select options. It feels a little cheap, but this thing is the ULTIMATE way to play Super Smash Bros. The only problem you'll have is convincing your mates that they're not allowed to have a go because they are inferior to you. If you can manage it without causing a riot, then get one of these arcade pads and experience a brawl to remember.
4. Gamecube ASCII Keyboard Controller
Things are starting to get a little silly now, but this controller DID exist and deserves a mention as one of the best GameCube accessories ever made, if not one of the oddest. 'Why the hell would a GameCube need a keyboard controller?', I hear you ask. Who would make such a thing? Well, this device was made in Japan and was produced specifically for the Phantasy Star Online series (also one of the best Dreamcast games ever made).
As you can see, this thing is HUGE!It's so old-school too, with all of the function keys on the top row, a mini space bar, and tonnes of other buttons that I even I don't recognise. To say that it's just a GameCube controller that has been stretched out like a piece of dough, this thing looks pretty nice. It has all of the usual GameCube buttons for normal gameplay, but you might be better off resting it on a table while working through your favourite titles, otherwise your arms might drop off!
5. DK Bongos
Why doesn't every console have a pair of plug-in bongos? The next item on our list of the best GameCube accessories was a blast! Donkey Konga was a bit of a novelty game and the first example of playing along with popular songs on a home console. Smashing out jungle beats with friends was incredibly fun, and the controller itself felt very sturdy and nice to the touch. Those bongo pads had just the right amount of grip and give and were uber responsive (something I tried to tell my mate Andy who always used to smack the crap out of them).
I learnt to play the drums from a young age, but that didn't really help me when it came to Donkey Konga! Playing along with Queen and my favourite Nintendo soundtracks was great, and I remember eating dinner with sore hands after trying to beat my high score. The bongos themselves could also be used to select options and move through title screens, a little bit like the NES Zapper. If you missed Donkey Konga, then click below to acquaint yourself with a classic.
6. GameBoy Player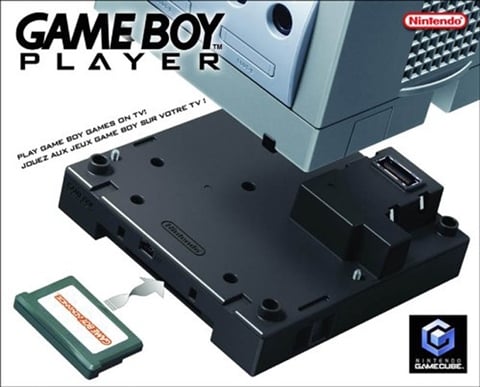 Before the world of emulators and the Retron JR from retro gaming specialists Hyperkin, the GameBoy player was the best bit of kit for getting your best GameBoy games up on the big screen (or a portable screen as we've already discussed!). Playing handheld titles is all well and good, but seeing Pokemon Emerald or Grunty's Revenge up on your TV just feels incredible, especially because you could use your existing GameCube controller with it too.
The device itself connects via the high-speed parallel port on the bottom of the console (bet you didn't even know that it had one!). It's region free so can be used with any system and requires a boot-up disc to work. With no emulation in sight, you can enjoy all of your favourite games with crystal clear graphics, no framerate loss or lag, and the benefits of tapping straight into your existing save files. Result!
7. HORI GameBoy Controller Of course, if you wanted to have the ultimate GameBoy transfer experience, then there was always the HORI GameBoy pad. This is one of the only items on out list of the best GameCube accessories that seems to take design inspiration from past products rather than looking to the future. When you hold this in your hands, it feels exactly like a SNES remote!
This HORI controller is essentially a scaled down GC remote without any of the buttons that don't work on GB games removed. There's no analog stick, with the D-Pad providing the main method for moving your characters around. The L and R buttons don't really do anything, but having the rest of the buttons in the same shape and style as the GC controller is a nice touch, and this device actually works on a couple of 2D titles too like the early Sonic ports and Mortal Kombat. If you're a controller nerd (of course you are; you read Retro Dodo!), then you NEED this bad-boy in your collection.
8. GBA Link
From the early days of the Transfer Pak, Nintendo realised the benefits of being able to connect GB games and devices with their other consoles. The GBA link cable was most famously used for appeasing Tingle in the Wind Waker, with the GBA turning into some weird Tingle Phone or something (it's been a while). Could this be another slice of inspiration on the road to creating the Wii-U and the Switch? I'm going to say yes, because it's easier than going back and deleting that last sentence.
The GBA Link Cable had a whole host of compatible games, allowing you to use your portable purple powerhouse to unlock new content, turn your handheld into a second screen, use the GBA as a controller, or play your GBA game through the GB player when plugged in. See; it's the first example of docking a handheld up to the big screen – I knew that Switch comment above was true!
9. GameCube Broadband Adapter
This next item on our list of the best GameCube accessories was crucial if you wanted to get online. I know that sounds so ridiculous in our world of PS4s and XBOX One's, but this was the mid-2000s don't forget, and most people still had dial-up internet! The Nintendo GameCube has the ability to connect to the internet but doesn't come with the necessary tools to do it straight out of the box. The gaming giants didn't feel that people would want to pay subscription fees to online services back in the day, choosing instead to focus on the now dying art of couch-coop (which will forever be my favourite way to play).
The Broadband Adapter was needed for online and LAN supported games (LAN titles such as 1080 Avalanche and Double Dash, to name a couple). It provided a high-speed internet connection via an ethernet port that could be hooked up to your phone line. It fits flush to the underside of the console too, so there's no extra bulky parts to add on (not that that's a problem looking at some of the other best GameCube accessories in our list!).
10. GCHD MK-II HDMi HD Adapter
Not only does this upscaler come in a GameCube shaped box, but it's also one of the very best on the market. the Mk-II from EON supercharges your signal output to 720p HD, allowing you to make the GameCube's original 480p output look great on modern HD TVs. It plugs directly into the back of the console, manipulating the signal straight from the source, and has a built-in headphone jack for listening to your favourite gaming soundtrack at night.
EON products are known to be quite expensive, but that's because they are far superior to other cables and converters on the market, including the elusive video component cable that you might be lucky enough to find on eBay. They are the best in the business, and the MK-II provides 100% lag-free gameplay, making it a worthy investment.
Honourable mentions
As always, it's impossible for all of the best GameCube accessories to make the cut and gain eternal glory in our world-famous compendiums. Here are some of the worthy contenders that were either too expensive or rare to find, and some that, while important, just didn't have what it takes to receive their own numbered slot.
Component Video Cable – the rare Japanese cable that improves your GameCube video output.
4Gamers Speaker System – Brandon managed to find one in his video above, but we couldn't see one in stock anywhere!
Mayflash Adapter – play your favourite Switch, Wii, and PC games with your GameCube controller or arcade pad.
Memory Card – The little save carts that kept all of your game data in one place. Is used to like the fact that you could store these inside the game carts too!
GameCube Microphone – Used for Mario Party 6 and 7 among other games.
More Content From The Retro Dodo Team!
This article may contain affiliate links. If you use these links to purchase an item we may earn a commission. Thank you for your support.
Seb Santabarbara has bought every Nintendo console that has ever been released in his 33 years on Planet Earth. His favourite game franchise is Zelda, and he's patiently waiting for Banjo-Kazooie to come back to the fold. When he's not playing games, he's travelling the world in his self-converted camper van.