Gamers often love to imagine what's going on inside their consoles to make their favourite games come to life, which is why the ODROID GO is such a fascinating bit of kit. Handhelds are constantly evolving and changing, from the classic days of the GameBoy and the best GameBoy games that came with it to the mighty Nintendo Switch and all of the Nintendo Switch Lite Accessories that you can spend your pennies on.
It used to be that the best handheld consoles were the ones born from the minds of the gaming giants, but thanks to homemade kits and advances in technology such as Android systems and Raspberry Pi, we're seeing more and more homegrown consoles take centre stage and standing the test of time. We all love new games, but nothing beats that feeling of reliving your childhood on a portable device that you can play whenever and wherever you want.
If you get excited by microchips (not the ones you stick in the microwave and eat with sauce) or think LI-Polymer batteries are a girl's best friend instead of diamonds, then the ODROID GO will make you feel like Bill Gates at the Microsoft Christmas party. Let's jump in and take a look at what this thing is and more importantly, what it can do!
Getting To Grips With The ODROID GO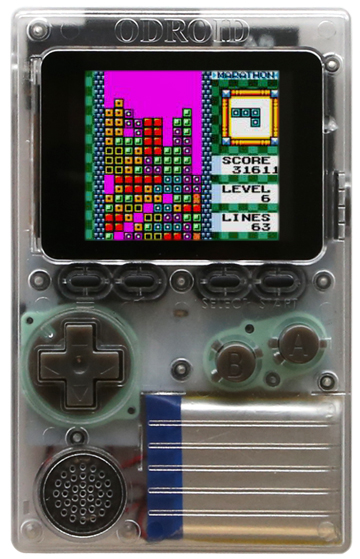 Paying homage to the controller setup of the GameBoy Classic, the ODROID GO 10th-anniversary game kit combines a curiosity for how games work with playing the games that made our favourite consoles famous. With a bright backlit screen and a nice overall shape, this little handheld looks as though it could do very well in the retro gaming market. Wait till you hear how much it costs too – it'll surprise you!
Some of you might be sat there thinking 'who the heck is ODROID'? Well, ODROID is the name of a thing, not a company. It's an amalgamation of 'open' and 'Android' and belongs to a South Korean company named Hardkernel Company Limited. They specialise in making single board and tablet computers and have a strong 'hands-on' ethos that they pass on to their customers. The ODROID GO is a little slice of cake that you can buy to celebrate Hardkernel turning 10-years-old, and we're definitely getting our monies worth at the dessert table.
Give Us Some Stats
To understand what the ODROD GO is, we first need to look at what it's made up of. When you purchase a package, you get all of the components required to assemble a handheld gaming device yourself. We're talking following instructions and learning how you map buttons to a PCB switch pad, learning a little bit of coding through the Arduino Programming Camp, and hooking up Weather Station's to check battery life and also how to hook up your smartphone to change the device's parameters. Don't be under any illusions – this is not a device that you can pull out of the box and play straight away. This one's for the uber-nerds, and us uber-nerds couldn't be happier.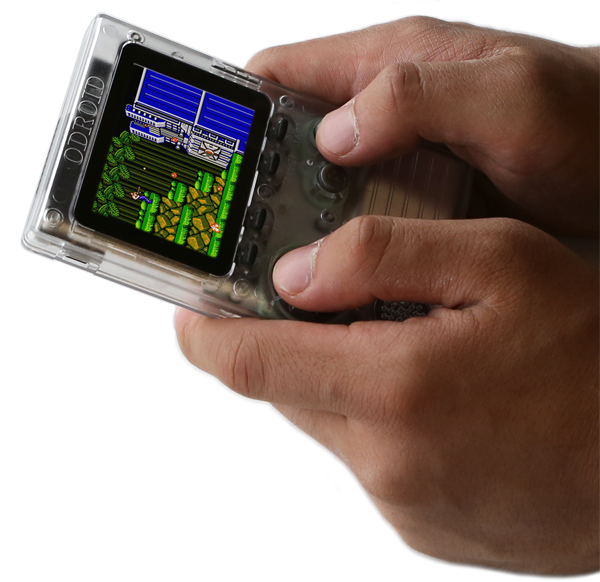 To start with, the ODROID GO uses an ESP32- Wrover with 16MB Flash Memory. It has Bluetooth and WiFi built-in and 80-240MHz adjustable CPU. The 2.4inch LCD screen has a resolution of 320×240, and a Micro USB slot charges up the 1200mAh battery, giving you a whopping 10 hours of playing time. That battery life is along the lines of some of the best RetroPie handhelds that we've received here at the RD offices and is seriously good for the price (I'm not spilling the beans yet though).
In terms of what the ODROID GO can play, it has the capabilities of emulating classic games from the Nintendo Entertainment System, ColecoVision, Game Boy, Game Boy Color, Game Gear, and the Sega Master System. If you have got to this point and were hoping to see some PS1 titles in that list, then you might be a little disappointed. But for me, that's a perfect back catalogue with some of the best titles from retro gaming history. We're talking Zelda, Tetris, Pokemon, Sonic, Donkey Kong Country, Super Mario Bros, Mortal Kombat, Golden Axe and much, much more.
What Comes Out Of The Box?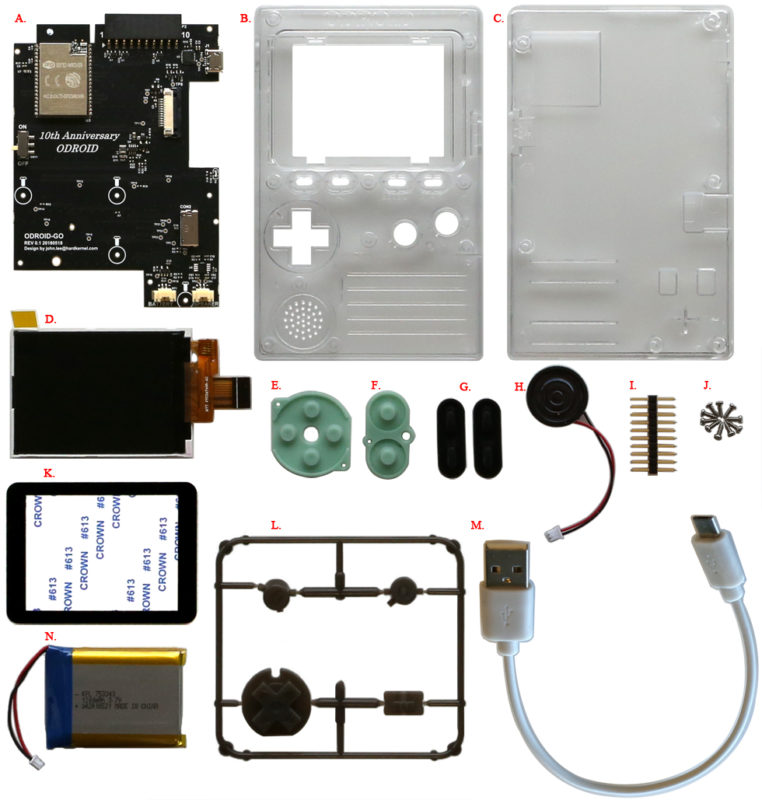 Everything that you need to get up and running with your new ODROID GO can be found inside the box itself, from the rubber buttons to the 10 little screws that you need to put it all together. There are only actually 14 different components to think about (13 if you discount the screws), so it's not going to be too taxing for first-timers who want to try their hand at building a console. You can learn how to put the entire thing together and install your operating system via the Hardkernel website and their freely accessible 12-day setup course. There's nothing to stopping you from doing the whole thing in one day if you're feeling adventurous, but for some, small steps are much more comfortable.
The Go-Play app is ready and waiting for you to download ROMs to your SD card and 'go play' as soon as you've built your console, but the real excitement comes from trying your hand at coding with Arduino. No, that isn't a lower evolution of the legendary ice bird, but it's just as impressive once you get to grips with it.
By following instructions and tutorials on the Hardkernel website and the ODROID wiki page, you can delve into the worlds of Arduino, MicroPython, and Doom (the world of Doom actually sounds like one I would rather stay out of if I'm honest). You can use these coding platforms to write your own games like Tetris and Flappy Bird, and also for making console add-ons like the Weather Station (battery health monitor) and the Ultrasonic Distance Meter (who needs a FitBit when you have one of these in your pocket!).
There's also a whole heap of tricks that you can do with your smartphone, and I'm not talking about that one where Dynamo throws it into a river and then pulls it out of his pocket. You can make a serial connection via Bluetooth to code from your phone and also control the LED via a downloadable app over WiFi. The ODROID GO is the home-built gift that just keeps on giving. It's like the Santa Claus of handhelds…except it's thin, not red, and doesn't have a beard.
Final Thoughts…
The ODROID GO isn't for the faint of heart; this is a console for those who want a little more than just to plug in and play, for the gamers who have a sense of intrigue as to what lies behind the back of their screens. Having said that, you could always get a friend to put it together for you if you don't want to mess around with the internal bits, in which case it becomes a neat little handheld that plays some cracking games.
I like the fact that this anniversary game kit is educational as well as fun to use, and that you can take your learning adventure beyond the initial setup stages if you want to give coding a try. Ok, you're not going to be making the next Grand Theft Auto game or anything, but it's a great way of finding out whether you would like to get into coding as a profession or even just a hobby. Who knows, it might even light a spark that sees you creating the next new handheld that we write about here at Retro Dodo!
All that's left for us to do is to talk about the price. The ODROID GO 10th-anniversary DIY package comes in at just £39.95 (around $51). Yes, you heard me right. That's a great price considering what you get in the box and the extra coding skills that you can pick up along the way, and it also falls in line behind other handheld consoles in the £100 range that go on to play PS and the best Neo Geo games. I'm very much impressed with the ODROID GO and can't wait for the aftermarket modifications from avid gaming fans that are bound to crop up over the coming months.
What are your thoughts on the ODROID GO? Is it a one-stop-shop to coding brilliance, or is it a box of parts designed solely to infuriate and torment you? Join the conversation over on Facebook, Twitter, and Instagram!
More Content From The Retro Dodo Team!
This article may contain affiliate links. If you use these links to purchase an item we may earn a commission. Thank you for your support.
Seb Santabarbara has bought every Nintendo console that has ever been released in his 31 years on Planet Earth. His favourite game franchise is Zelda, and he's patiently waiting for Banjo-Kazooie to come back to the fold. When he's not playing games, he's travelling the world in his self-converted camper van.