If you're the kind of person that likes to know their consoles inside out, then the ODROID GO Advance should be at the very top of your wishlist. For many players, gaming simply just isn't enough. The thrill of putting a console together and working out which wires go where might be daunting for some people, but at Hardkernel, that's how they make their bread and butter. If you're into coding, computing, or electronics of any kind, then the ODROID GO Advance has everything that you need to make your own handheld gaming device and to learn a thing-or-three along the way.
When it comes to the best handheld consoles on the market, Hardkernel takes the most important points from the rule book and then throws it into the nearest fire. These retro gaming consoles have lots of little hidden tricks up their digital sleeves and can even be modded further with a few extra accessories and a steady hand. Interested in finding out more? Read on to check out my thoughts on the ODROID GO Advance!
Meet The ODROID GO Advance – A Geek's Paradise
It's fair to say that some of you may be sat there wondering who or what an ODROID is. Is it a new robot from The Last Skywalker, or is it a device that cuts your lawn to look like a giant Polo? Well, ODROID is the name of the gaming device, and Hardkernel Company Limited team are the brains behind the scenes. They are usually associated with single board and tablet computers, but more recently they have been turning their hands towards handheld gaming devices, and they're pretty good at it too. ODROID is a play on words between the phrases' Open Source' and 'Android', the latter of which is the operating software that you'll use to play all of your favourite titles once the device is up and running.
Some of you may have read the article that we wrote on the ODROID GO, a DIY handheld gaming console with many stylistic elements shared with the original classic GameBoy. With an ESP32-Wrover with 16MB Flash Memory and a 2.4inch LCD screen, this DIY handheld emulator created to celebrate the companies 10th anniversary received high praise amongst gaming critics and proved to be an educational and fun way of getting kids into coding. Customers can either kickstart the 'Go-Play' app and choose from hundreds of different games or learn to code their own titles via the Hardkernel website and add other features that can sync up with their smartphone or tablet.
Two years later and Hardkernel are back with the ODROID GO Advance, a sleeker-looking gamer that may well prove to be a contender to knock the best RetroPie handhelds off the handheld champions list! But what can this thing actually do, and what similarities does it have to it's older brother?
Give Us The Lowdown!
Well, for starters, the new ODROID GO Advance has a different layout to the ODROID GO. As with the change between the GameBoy and GameBoy Advance models, the new product sees buttons placed on either side of the screen in a more universally used and recognised style.
In terms of what makes it tick, if the ODROID GO was an F1 car, then the ODROID GO Advance is Captain Falcon's ship in F-Zero X. This thing has got some serious power inside it for a portable DIY console. Hardkernel has included a RockChip RK3326 in their newest build, along with an SoC with four 1.3GHz cores and 1GB of RAM. That's mightily impressive for the price (which we will include at the very end as always!). The battery life is equally as remarkable, with a Li-Polymer 3.7V/3000mAh battery providing up to 10 hours of continuous game playing time. I don't even think my Nintendo Switch can match that! The device now runs Ubuntu 18.04 and makes use of kernel version 4.4.189. That may well be a lot of numbers for those of you who neither know or care about the inner workings of consoles, so take my word when I say that the ODROID GO Advance means business!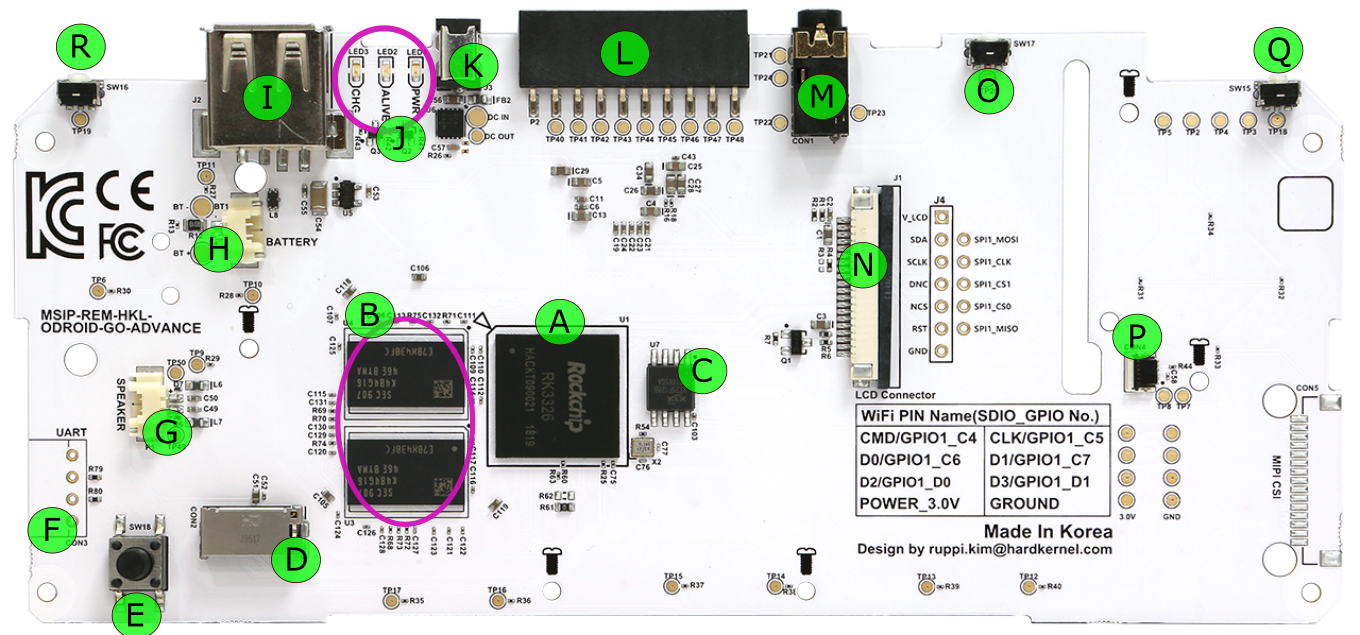 The new 3.5inch 320×480 TFT LCD screen seems so much bigger than the ODROID GO even though it's only an inch bigger, but you can definitely tell the difference with the products side by side. The console still has that same clear, almost see-through case that enables you to point out the bits that you put together when showing the device off to your friends, but that's where the similarities stop.
The ODROID GO Advance now has a joystick as well as a D-pad on the left-hand side of the handheld. This could be because gamers are becoming increasingly more used to playing with a joystick, or it could be because of the fabled rumours that Hardkernel's newest device has the ability to emulate PSP games. We haven't found any information to back up or deny this claim on the official listing on their website, but videos on YouTube do show what looks to be PSP emulation on the device. I guess we'll find out for sure when the console comes out at the end of January 2020.
What Games Can This Thing Play?
Officially, the ODROID GO Advance can play all of your best GameBoy games, as well as your favourite titles on the Game Boy Color. SEGA Megadrive, the best SEGA Game Gear games, NES titles, and classics from the SEGA Master System. There's a lot of iconic games that spring to mind when I hear those consoles, with Zelda, Sonic, Streets Of Rage and Pokemon hitting the finish line at the front of my brain first.
So we know that this thing has some great titles on it, but the sort of experience that you'll have playing them is another story. The ODROID GO Advance has two more face buttons than its older brother (A, B, X, Y instead of just using A and B) as well as an extra two buttons underneath the LCD screen itself. It's unclear as to what these extra buttons will do as of yet, but hopefully, they will allow the user to access favourite titles, user presets, or something along those lines.
The ODROID GO Advance also has two shoulder buttons for reasons that I cannot understand. This device is set up exactly like a GameBoy Advance but can't emulate those games. Are we likely to see snippets of SNES and GBA emulation alongside the PSP clips up on the internet? I would imagine that it would be pretty easy to make the necessary alterations if you were already a coding wizard. But if you're new to the console-building-game and just want to play Columns on the go, then stick to the instructions on the website and put all thoughts of shoulders buttons behind you for now.
What Comes Out Of The Box?
The ODROID GO Advance needs to be assembled before you can play on it, and while the kit itself looks a little more complicated than its predecessor, you won't need any soldering irons or magnifying glasses to put it all together. I would say that a child could do it, but as I would probably find this difficult and infuriatingly fiddly, I think I'll leave that bit out.
The kit is pretty intuitive and, if the ODROID GO product page is anything to go by, the ODROID GO Advance will have a full step-by-step guide that you can follow to bring your new handheld to life. The kit comes with all of the cables that you need to hook up your buttons to your PCB switch pad and a handy screwdriver, so you don't have to waste time searching through all of your drawers to find a tool that's the right size.
It's unclear as of yet whether you will be able to use Arduino Programming Camp to add on extra accessories such as the battery life' weather station' or whether the ODROID GO Advance will have a battery life checker built-in. Hopefully, budding coders will still have the opportunity to try their hands writing games in Arduino, MicroPython, and Doom (writing in Doom sounds a little like something the Sith or Sauron would do…I like it!).
Final Thoughts…
The only thing that's left to talk about is the price. Now I know what you're probably thinking; this thing must cost hundreds of bucks, right? Well, how does $55 sound to you? Not bad for a solid looking emulator with more buttons than two N64 controllers performing a mating ritual! The screen looks bright, the buttons look nice and smooth, nothing seems crowded or thrown together, and the device looks as though it would fit nicely in your hands. All that's left for us to do now is to discern whether the speaker sounds good, if the shoulder buttons are mapped up properly, and if those buttons under the screen actually work. Hopefully, we'll have an answer for your soon, but in the meantime, you can head over to the Hardkernel website to learn more about the ODROID GO Advance and to bookmark the page ready for a preorder!
More Content From The Retro Dodo Team!