Upgrading classic consoles is something that we love here at Retro Dodo, which is why our ears pricked up and our eyes widened when we found out about the 64 Mate. It's no secret that we also have a lot of love for the N64, a console that started our gaming journies all those years ago and one that paved the way for some of the most influential characters in gaming history. Our love is shared equally by all of you, which is why new accessories and devices such as the Hyperkin Wireless N64 Remote and the Hyperkin Ultra Retron are making big waves on the retro gaming scene, but could the 64 Mare trump them all?
Can you remember the 64DD, the Disk Drive that proved to be as floppy as the CD's older brother? Well, the 64 Mate kind of looks like that, apart from the fact that it doesn't have a disk drive that can only cater for 10 games. It's a one-stop-shop for anyone who holds their classic console and the best N64 games in the highest regard, and it looks as though it could well be on many retro gaming wishlists for 2020!
Could This Be The Ultimate Nintendo Add On?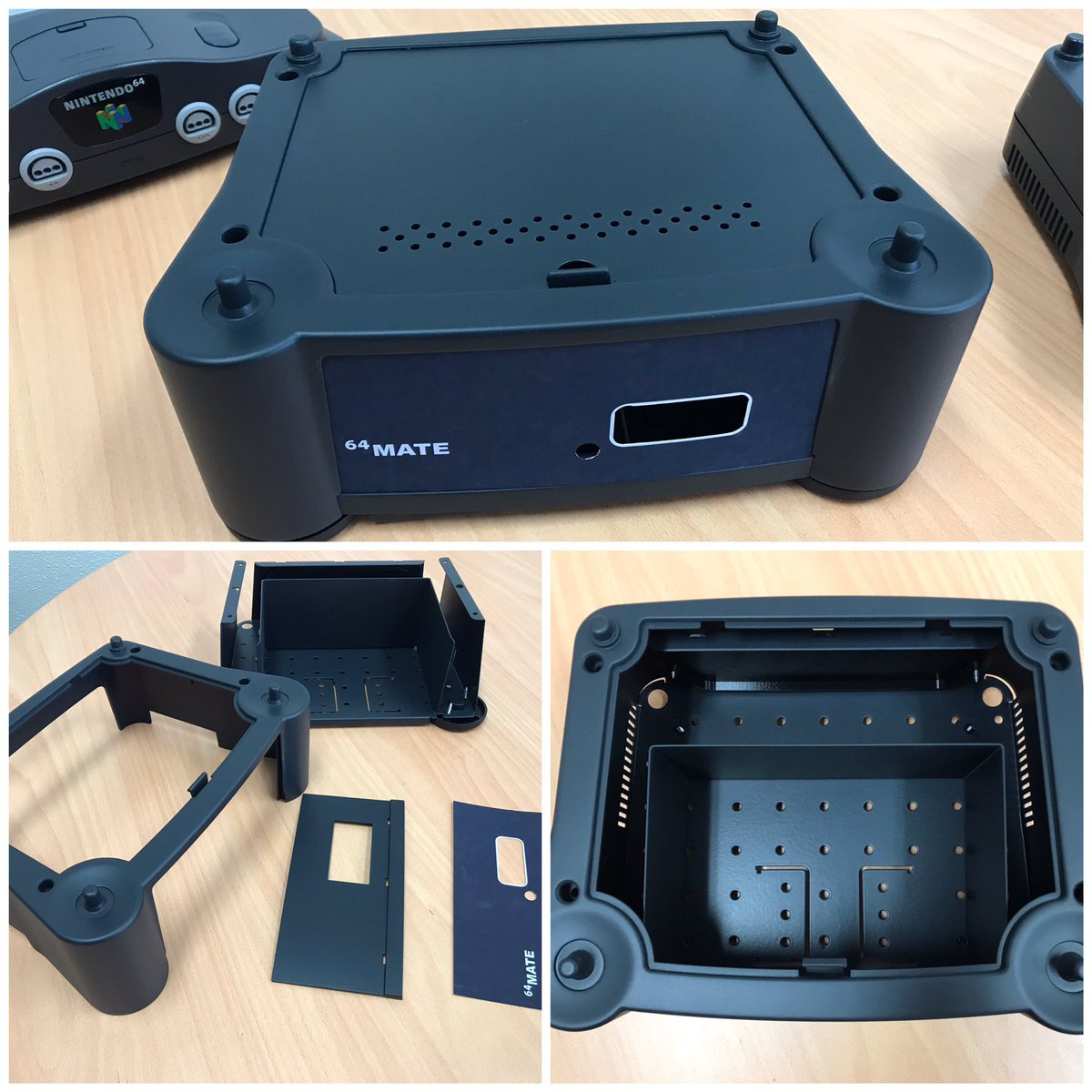 If you've ever wondered what your N64 might look like if it decided to head out to a disco wearing a platform boot, then now you have your answer. The N64 Mate certainly boosts the profile of your favourite console and makes even more of a feature piece in your gaming room, but it does a lot more than that.
You might never have had a need to lift up your N64 in order to look at the underside of the console, not unless you're a keen duster or moved around a lot as a kid. If you're not that in tune with the anatomy of this 64-bit marvel, then you might also not know that there are holes on the bottom of the console that you can use to plug into devices such as the 64DD, a collectable accessory that does about as much as a commemorative chocolate teapot with the Queen's face on it. But this is 2019, not 1999, and all talk of the 64DD has been replaced by the 64 Mate, the all-singing-all-dancing highly anticipated accessory on the block. But just what does it do, exactly?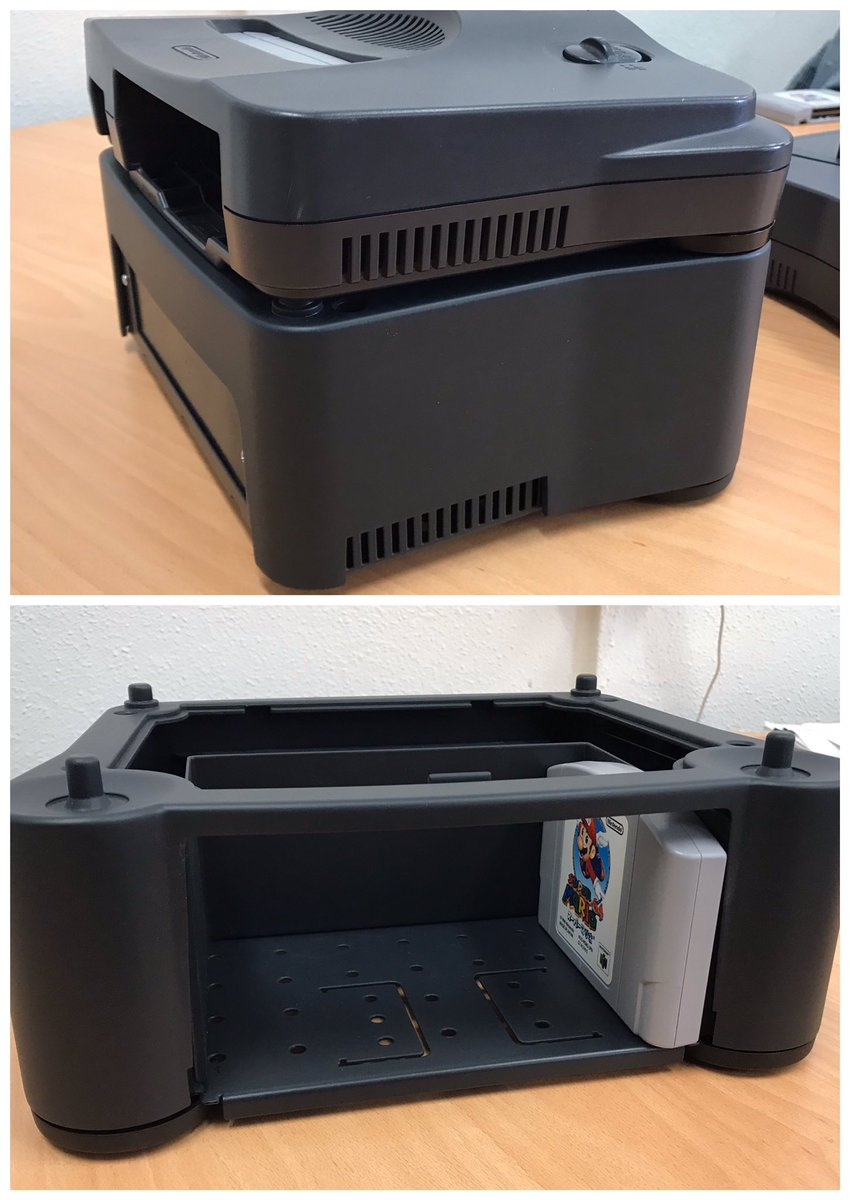 Images of a pre-production version of the 64 Mate have been released with a caption detailing what this 'add-on' can do. It's essentially a storage device that will house upscalers, capture cards, game carts and more, keeping everything tidy and out of reach of tiny fingers or troublesome rabbits on the loose. As far as we can tell, the device doesn't actually alter game graphics in any way; the 64 Mate is for storing existing hardware that you use to make this classic console even greater. It's basically a way of hiding your extra wires, cartridges, and cables so that they don't get caught up in the vacuum or the dogs back legs.
So where can you find this nifty accessory? Well, the 64 Mate is one of the newest upcoming retro gaming Kickstarter projects that we've found while searching the web, and as such, it isn't currently available for purchase just yet. The 64 Mate team are currently taking email sign-ups to let people know when they can start backing the project and, with the magic of 3D printing and the backing of the gaming community, it shouldn't be too long before Ocarina Of Time fans can get their Kokiri-mitts on a 64 Mate for their beloved Nintendo.
As storage goes, the 64 Mate has lots of space for upscalers such as the Super 64 to sit comfortably inside as well as tonnes of storage for your favourite game carts. I like to keep all of mine in the original boxes, but if you don't like the clutter or want to keep the carts that you're currently playing close to hand, then this is a great solution.
Final Thoughts
Ok, if I'm going to be honest, I would like to see an upscaler built into this thing or something to give it that extra bit of excitement. I like the fact that it is simple to build and a nice way of keeping everything looking nice and tidy around your console, but if the 64 Mate had a built-in upscaler or a device that inherently improved the users experience while storing your cartridges and controllers, then that's a project that I would definitely back. As it stands, it's just another piece of plastic in the world and does the job that my current TV cabinet has been carrying out for around a decade now.
I'm all for creating a tidy workspace, but will this revolutionise your gaming experience or your life? Probably not, but if you like accessories and keeping everything in a set place, then the 64 Mate might well rock your world. This isn't an accessory that I would want to be mates with, but maybe I'm just an antisocial, cynical fool that likes saving the planet. I'll let you be the final judges on this one.
What do you think about the 64 Mate? Let us know your thoughts over on Facebook, Twitter, and Instagram!
More Content From The Retro Dodo Team!
This article may contain affiliate links. If you use these links to purchase an item we may earn a commission. Thank you for your support.
Seb Santabarbara has bought every Nintendo console that has ever been released in his 33 years on Planet Earth. His favourite game franchise is Zelda, and he's patiently waiting for Banjo-Kazooie to come back to the fold. When he's not playing games, he's travelling the world in his self-converted camper van.