If there's one thing that we love more than anything here at Retro Dodo, it's GameBoy Accessories. We can't get enough of them, in fact, it's probably safe to say that we dream about them when we go to sleep.
Some people call it an addiction, but we've got it totally under control…
It doesn't matter whether you enjoy playing the best GameBoy games, the best GameBoy Color games, or the best GameBoy Advance games, when it comes to supercharging your chosen device, there are so many GameBoy accessories out there to make the most of your the best retro handhelds.
Anyway, you don't need to listen to me rambling on any longer; let's kick off with the first item on our list!
In at Number 1 is the Hyperboy for the original DMG. This is a rare bit of kit when it comes to GameBoy accessories, and we were lucky to come across it when we did!
You might be wondering what the heck this thing is, which is good because otherwise, I wouldn't have anything to talk to you about. This little device made by Konami basically turns your original GameBoy into an arcade machine.
We're talking about recreating those nostalgic moments down at the arcade, blasting through the best Neo Geo games and button mashing to your heart's content. The unit itself is pretty simple to work – just slot your DMG in and you're good to go.
If you're looking at playing your favourite titles on a screen and don't want to purchase the Retron Jr, then this could be a neat little accessory for your collection.
Have you ever felt that your GameBoy Color just isn't beefy or bulky enough, or just doesn't look as though it's had a threesome with a Polygon and an old 80's dance video?
Well, today is your lucky day, because you can get your hands on the Smart Sound & Shake and pimp up your GBC with the best retro technology that money can buy (that might be an overstatement).
This bit of kit essentially gives your GBC a rumble feature, and it also houses a power pack to prolong battery life.
It amplifies the speakers on the GBC to increase your sound level output and also comes with some cutting-edge earphones (remember this is the 90s).
One of the best bits about this piece of kit is the little front plate that you can add to the front of the console, turning your D-Pad into an Analog stick and raising your A and B buttons up for extra-mashing capabilities.
Back when front-lit screens were all that you could get on a console, the Worm Light reigned supreme.
If you're too young to remember these or have never used one, it's essentially a semi-bendable light that you can use to illuminate the screen of your GBC or GBA.
These were essential if you wanted to be able to play in the dark or anywhere with an ounce of shadow, and they continued to be a crucial bit of kit until the arrival of the GBA SP.
I'm not gonna lie; I hate the Worm Light with a passion and was forever moving it around the screen with my finger while playing.
But, even I have to admit that it was one of the most important GameBoy accessories of the 90s and still allows players to enjoy their favourite games today.
The GameBoy Pocket was the 'Mark II' of the original GameBoy. It featured an LED indicator to show battery level, was smaller, thinner, and as the name says, fit nicely in your pocket.
It had improved response time, a black and white screen, and also had some pretty neat GameBoy accessories of its own.
The HandyPak Pocket 2 is pretty much an amalgamation of all of the other accessories that we've covered on this list so far, with the inclusion of a magnifier to help you to see what's going on on that itty-bitty screen!
The magnifier has a light, there are plug-in speakers built into the screen cover, and it also converts the D-Pad into an Analog stick.
This makes your GBP feel a lot like a miniature DJ turntable crossed with a Geiger counter.
Who else can remember ringing up the Nintendo hotline for cheats and advice about games?
I rang them at least three or four times about that blasted Ice Key in Banjo Kazooie and for loads of other stuff too.
I don't think that it exists anymore, what with the internet being such a huge thing (who thought that would take off, eh?), but if you're after cheat codes for your favourite GB and GBC games, then the Game Genie may well be one of the most important GameBoy accessories out there.
It works as an external sleeve for your game cart and plugs directly into the handheld itself. You can find all of the available cheats in a small mouse-sized booklet and key them straight in using the D-Pad and A button.
I suppose this is one of the earliest forms of hacking…
You can finally fulfil your dreams of turning your GameBoy into Boba Fett's ship with the next item on our GameBoy accessories list.
This thing is HUGE, but it certainly packs a punch. It's essentially a Samus Aran style power suit for your original DMG GameBoy.
The faceplate has the usual Analog stick and raised buttons that are all the rage with these mod packages, but the real exciting features are all the other bits and pieces that make up this monstrous plastic Minotaur.
The two balls on the top are external speakers, there's a flap for storing headphone and getting to the power switch, a magnifying glass that can be pulled over the screen, and there's a light that you can use to illuminate your favourite games in the dark.
The back of the BoosterBoy has a space for storing game carts and housing for the four C-sized batteries that you need to run this beast. It weighs a tonne, but it's totally worth it.
Before Infrared and Bluetooth were commonplace, the Link Cable was a gamers best friend. Firewire and Game Link cables were used to connect devices together so that players could go head-to-head with one another and trade Pokemon.
They were also used to unlock hidden items in some games too, but you either needed a friend with a compatible device or two of the same handheld in your collection.
The Link Cable further cements Nintendo's idea of gaming with friends, being in the same space with one another and playing multiplayer titles as a social activity.
I much prefer this method of gaming to sitting on my own and playing against somebody that I've never met, and I've got the Link Cable to thank for that.
I know it doesn't seem that exciting now that we all have incredible camera on our phones, but the next gadget on our list of the best GameBoy accessories was pretty innovative for the time and blew my young mind!
It was hailed as the world's smallest digital camera and allowed users to take greyscale photos of anything that they came across.
Images could be edited and transferred to Mario Artist on the 64DD (now we're really getting into retro gaming territory). And if you wanted to be able to print out your photos, then you would also need the…
Like Mario and Luigi, the GB Camera and Printer were the ultimate duo back in the day. This printer is one of the most power-hungry GameBoy accessories on our list, requiring 6xAA batteries to run.
It printed photos taken on the GameBoy Camera and stills from select GB games onto thermal paper, allowing users to carry around their favourite snaps or game shots in their wallets to show their mates.
The printer was discontinued in 2003, and it's now incredibly hard to find genuine paper for the machine. You might have to get creative and cut your own thermal paper down to size.
But hey; if the retro gaming community can put together a Nintendo 64 handheld, then I'm sure they can sort this little problem out!
If you're looking to turn your GBA into a Bat Man-style throwing star, then you should get yourself a Dual Hand Grip at the earliest convenience.
Brandon (Retro Dodo big-wig) has a steam-punk, post-apocalyptic style grip that you can see in the video above, but this all-purple number is much easier to get hold of and compliments the original GBA nicely.
It gives the GBA a home-console controller feel and comes with a little battery pack too to give you more playing time when you're trying to beat down a boss.
If you're still rocking this classic console and want to switch things up a little bit, then this could be one of the GameBoy accessories to look out for.
If you really want to protect your GBC, then the next piece of kit on our list of the best GameBoy accessories is a must have.
This clear skin that slips over the GameBoy Color is super-slick and doesn't detract from the overall feel of the console at all.
It helps with gripping the device when you've got what I like to call 'Gamers Sweat', the slippery-hand syndrome that you get when you're about to face the final boss.
It also keeps your handheld scuff and dint free – look after it better than you would look after a child. It's our founder Brandon Saltalamacchia's favourite accessory.
There's no denying that the e-Reader looks a bit overkill on the GBA, but it was a pretty cool gimmick for the games that it was compatible with.
Swiping a data card through the LED scanner would unlock certain items, objects, or levels on your game, making you feel a little like a spy trying to break into a security vault (albeit a spy in Animal Crossing…).
There were a number of Pokemon games that used the e-Reader, giving you extra berries and battle items. This might not be one of the most life changing GameBoy accessories on our list, but it's still worth a look if you can find one.
The Gamester Game Changer is basically a holster that you can slot your SP into that has multiple game cartridges loaded up at once.
Imagine one of those car stereos that can hold four CDs at once – that's pretty much what this is, except its smaller, made of plastic, and looks a little bit like a spaceship refuelling station.
Some people love this thing, and others have said that it messed with their save files when switching.
GBA carts aren't exactly big, but having the ability to change between them without installing a new cart does make you feel a little bit like a genie.
14. GameBoy Carter (DMG)
The GameBoy Cart Reader from Submodule does basically what it says on the tin – it's a special gadget that can read your GameBoy Games and transfer save files to your computer.
It can also read all of the game data on your cart and turn it into a ROM if you want to make digital copies of your games etc.
You can connect it up to your PC via a Micro USB port, and the device itself is incredibly compact.
If you like tinkering around with games and have a thing for modding, then you should definitely give this a look.
15. Logic 3 Carry Case (DMG)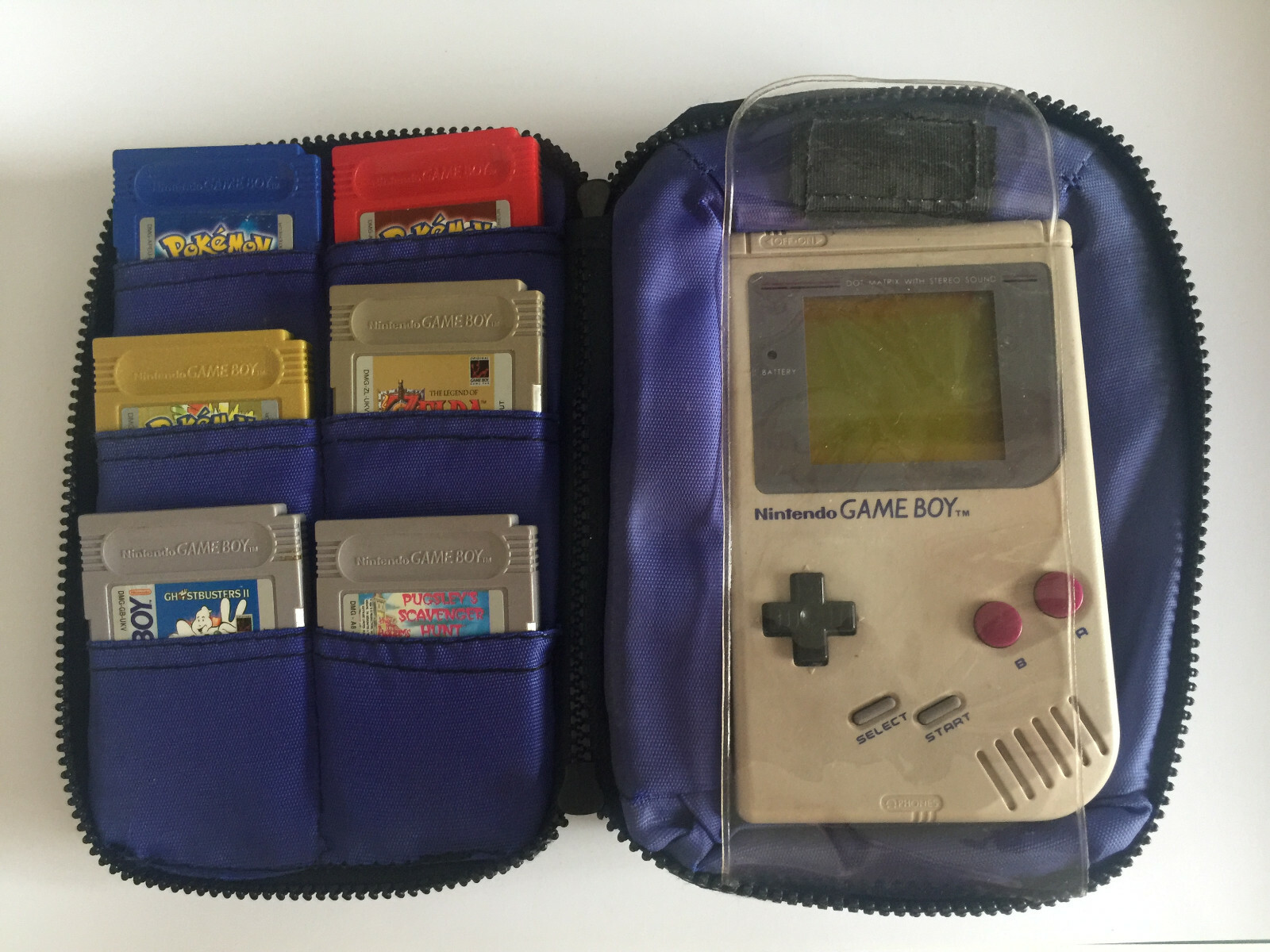 The last item on our list of the GameBoy accessories list is a bit of a nostalgic one for me.
I had this exact same case when I was a kid, and is used it whenever I took my GameBoy out of the house, on holiday, to friends houses – basically anywhere that wasn't my living room. I felt like a pro with this thing.
The case itself had lots of padding, and the six slots on the side were big enough to fit games plus their plastic protector cases (I looked after my stuff).
This Logic 3 case brings back so many happy memories for me, so it's only fitting that I end a list that basically defines my childhood with the carry case that allowed me to game all over the world (Blackpool, Southport, and possibly London – not quite a global adventure!)
This article may contain affiliate links. If you use these links to purchase an item we may earn a commission. Thank you for your support.
Seb Santabarbara has bought every Nintendo console that has ever been released in his 33 years on Planet Earth. His favourite game franchise is Zelda, and he's patiently waiting for Banjo-Kazooie to come back to the fold. When he's not playing games, he's travelling the world in his self-converted camper van.