If you're into handheld gaming (and let's face it; that's why you're here), then you should probably try or buy every one of the titles in our best GameBoy Color Games list. After the mighty success of Nintendo's first handheld cartridge-based console, the classic Nintendo GameBoy developed by Gunpei Yokoi (who you can find out a lot more about in our upcoming video on the history of the GameBoy), the gaming giants went on to create one of the most ergonomic handheld consoles ever. Gaming fans could, at last, see their favourite characters and 2D worlds in colour. The Gameboy Color launched with a spectacular range of titles for gamers to purchase, and with over 50 different colours to choose from, it wasn't just Pokemon-fever that was causing people to take up the 'catch 'em all' mantra.
So how can we whittle so many incredible titles down to just 10 of the best GameBoy Color games of all time? Well, luckily for you guys and at the expense of learning other valuable lifeskills like socialising with other people, mathematics, cooking, starting fires, or fending for ourselves in any way, we spent most of our childhoods playing pretty much every GameBoy Color game in existence, and that obsession has transferred through to our adult lives as well (it's a miracle that we've all got girlfriends).
What follows is a list of the greatest pocket-sized games of all time. If you haven't ever had a chance to play any of them, then I would suggest keeping another tab open with eBay at the ready so that you can make a wishlist. You won't regret it!

10. Wario Land 3
Sometimes it's nice to play as the bad guy, and sometimes that bad guy is just a little bit misunderstood. It's not Wario's fault that he loves garlic and couldn't audition for the role of Mario because his nose is too bulbous. Despite his oddities, Wario certainly knows how to put on a good show in this first title on our list of the best GameBoy Color Games ever. Wario Land 3 received critical acclaim on release and scored highly with pretty much ever gaming magazine, website, and critic in the known universe. Not bad for a portly-plumber with purple dungarees, eh!
The game follows the same style and theme as Wario Land 2, with the play taking ol' Wazza around a series of stages in search of abilities to help him progress through the game's weird and wonderful levels. One thing that I always loved about Wario is that, unlike Mario who just stomped on all of his enemies, he could use the attacks of the various baddies to his advantage and power up from them. It makes for more interesting gameplay if you ask me! As with any Wario title, there's obviously going to be treasure involved, and this time our 'larger-than-life' friend has to rid a world inside a magical music box of an evil presence so that he can be sent back to his own world as a rich man. This game is a fan favourite and one that you should definitely have in your collection.
9. Tomb Raider – Curse Of The Sword
Number 9 on our list of the best GameBoy Color games of all time features everyone's favourite kick-ass treasure hunter, adventurer, and gun-wielding tomb raider; Lara Croft. Curse of the Sword is a side-scrolling slice of gaming brilliance with rich textured graphics that we would never have thought possible when we held the original GameBoy in our hands. This single-player action-adventure title follows the same theme and uses the same gaming-engine as the first GBC Tomb Raider game, though this time there are more clever puzzles to solve, new challenges to overcome, and some pretty annoying bad guys that you'll enjoy defeating over and over again.
It wouldn't be a Tomb Raider game without a crazy storyline, and Curse of the Sword doesn't disappoint. In this title, a crazed magician has been rising to power in the underworld scene in New Orleans. When she dies, one of her crackpot followers tries to bring her back to life and, after a bit of a mishap with a sacrificial sword and some of Lara's blood, Miss Tomb Raider herself becomes the perfect host for old 'magic bones' to take hold of. Lara must find the weird cult, break the sword, and sort all of this out before heading home in time for tea at Croft Manor. It's a tough job, but someone has to do it.
8. Pokemon Pinball
How do you make a Pokemon title even better? What about making a pinball world where you fire Pokeballs around different pinball courses, hitting different pokemon and racking up hi-scores as you go? Yeah, that would probably do it. Stick Pokemon on the cover of a game with a nice graphic of Pikachu on the start menu, and you're one to a winner. This game, however, is actually one of the best GameBoy Color games ever because it's fun to play, easy to work, and SUPER addictive. This thing should probably come with a warning or be reclassified as a Class-C drug because once you fire that first Poke ball, you'll find it incredibly hard to put down. (Pinball responsibly, kids).
From popping out of Bellsprout's mouth to hitting gold with legendary Pokemon such as the mighty Mewto, Pokemon Pinball was the ultimate arcade game for pocket monster fans everywhere. Players can choose to play on a red or blue table (sound familiar? ) and play to capture Pokemon or evolve Pokemon that have already been captured. It might not be as action-packed as the main game, but it's definitely one of the titles that you can go back to when you're stuck on other adventure games or just want something that you don't need to think about too much.
7. Dragon Warrior Monsters
The next title in our list of the best GameBoy Color games was released before the actual console itself, which is a little odd when you come to think about it! Dragon Warrior Monsters was backwards compatible with the original GameBoy, so I guess that this makes it one of the best GameBoy games of all time too! This title was the first DWM title to be released in Europe and follows the story of the series' key characters, Terry and Milly when they are both children. The levels in this colourful RPG are kind of reminiscent of a Legend Of Zelda title, and the gameplay has a lot of similarities to the Pokemon series in the form of in-game breeding of your Dragon Warrior Monsters. Don't worry; you don't actually see any monsters getting down and dirty. It's a family game, after all.
The story revolves around Terry setting out on a quest to save his sister. Instead of fighting battles himself like in other Nintendo RPG titles such as Quest 64 (or Holy Magic Century if you're a connoisseur of the best N64 games on the planet), Terry uses monsters that he befriends or coaxes into battle along the way to do his fighting for him. Smart move, kid; let somebody else get their hands dirty. Along with 'Slib the slime', Terry's first monster, you must defeat an evil monster and all of the challenges and dark dungeons that stand in your way if you are to save your sister and bring some peace to the world. Slib might not sound as cool as Pikachu, but you've gotta start somewhere, right?
6. Pokemon Trading Card Game
I might have just lost all of you at point 6, but I'm sticking with it. Pokemon Trading Card Game is, in my opinion, one of the most underrated and best GameBoy Color games ever made. To be able to harness the thrill of the card game and the collecting and battling that went with it into a video game just felt unreal, and battling other trainers felt just as exciting as it did in the mainstream series. It took a lot of cost out of having to buy all of the cards in real-life (and ending up with thousands of Diglets in the process) and you could still collect 'em all and carry them around with you in a tiny cartridge rather than lugging around a carry-case with more value than all of your Mum's jewellery put together.
I recently found out that the game was banned in Saudi Arabia because of it's 'blatant' links to Zionism. Any game that gets banned instantly becomes ten-times more popular on the 'bad-ass-o-meter' scale! Players must challenge eight Club Masters and then four Grand Masters just like in the main RPG Pokemon game, with the chance to collect cards that you couldn't actually buy from the shops in the real-world. GBC owners could link up with each other and trade or battle, giving the player access to even more hidden surprises. Honestly, I found this game super addictive and couldn't understand why none of my friends had played it. For me, this title is a bit like Pokemon Snap – it's not as mainstream, but that doesn't stop it from being super hard to put down. 1.51 million Americans shared my opinion when the game was released, but the real question is, will you?
5. Super Mario Bros Deluxe
This wouldn't be a collection of the greatest portable Nintendo games without a Mario title in it, and number 5 on our list of the best GameBoy Color games gives you two plumbers for the price of one! Super Mario Bros Deluxe kicked things up a notch with a simultaneous multiplayer mode, a new challenge mode, and lots of newly-designed action-packed levels. It's not just a remake of the original Super Mario Bros; this game has lots of new and exciting features to warrant completing this story all over again, with fans looking out for new additions and worlds just like the nerds that watch the extended editions of LOTR with the booklet in their laps noting the deleted scenes (I am definitely that nerd).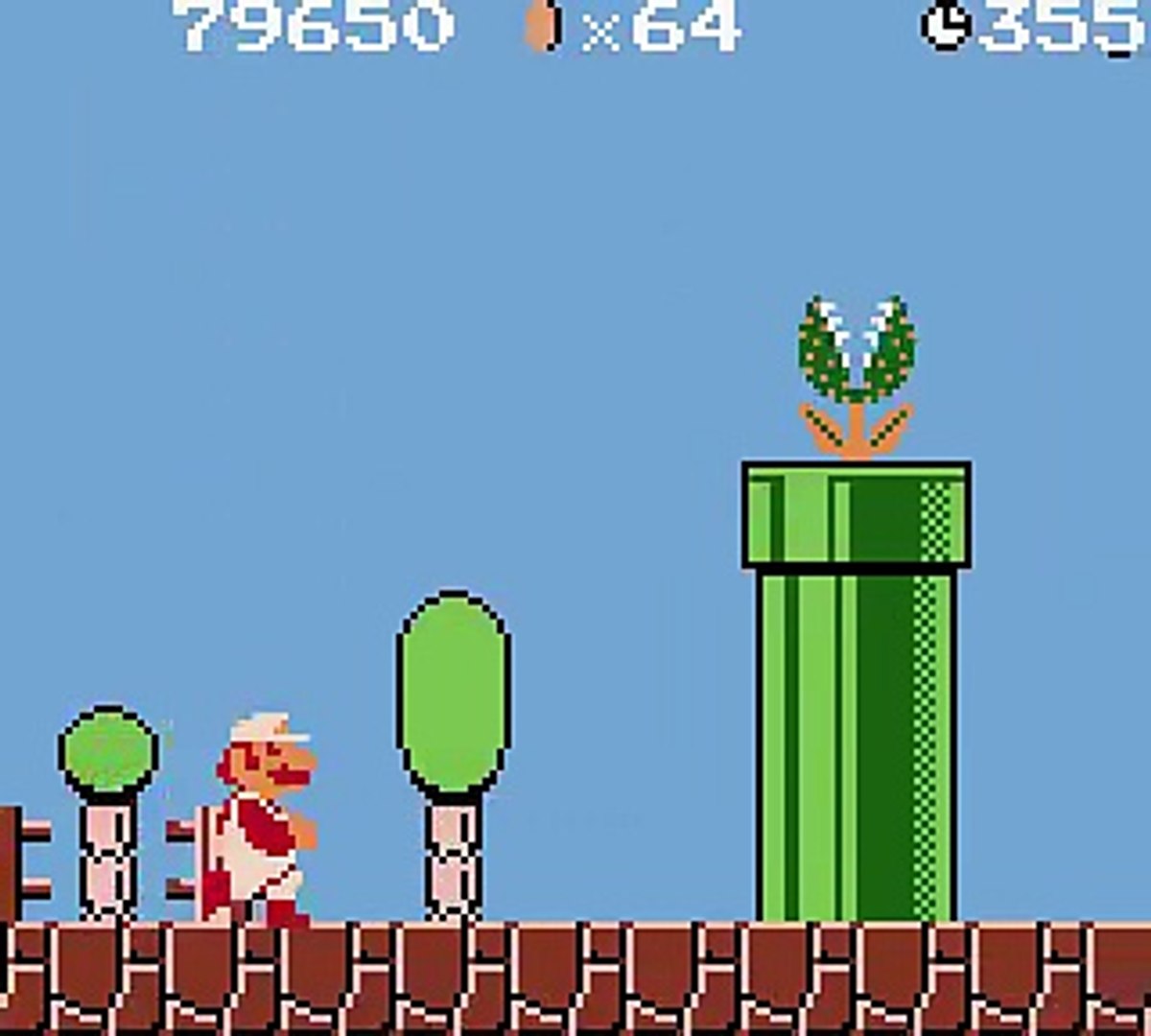 The mushroom kingdom is in uproar after the Koopas have used their dark magic to turn its citizens into blocks, bricks, and mushrooms. The king of the Koopas has (you guessed it) stolen Princess Peach, and it's up to Mario to sort things out. It's a storyline that's withstood the test of time, and the graphics and gameplay that bring it to life will make those afternoon hours fly by. With many of the glitches from the original game taken out, rich colour schemes and new animated elements added, the option to play as Luigi, and lots of other hidden surprises for gamers to try and spot, Mario Bros Deluxe is one of those titles that will keep you coming back time and time again. Grab a second-hand copy and see for yourself!
4. Legend Of Zelda – Link's Awakening DX
This next title on our list of the best GameBoy Color Games doesn't really need an introduction, but as I'm still short on my word count and don't want to have to eat bread and jam for the next month, I better give it a try. Link's Awakening was originally released for the classic GameBoy and went down an absolute storm (not like the literal storm that caused Link to get washed up on Koholint Island). As some of you might have read in our Link's Awakening Review of the Nintendo Switch remake, this title was never supposed to be a LOZ game at all. Shigeru Miyamoto saw the potential as the game was being made and decided to let it into the franchise, a fact that designer Yoshiaki Koizumi must have been very happy about!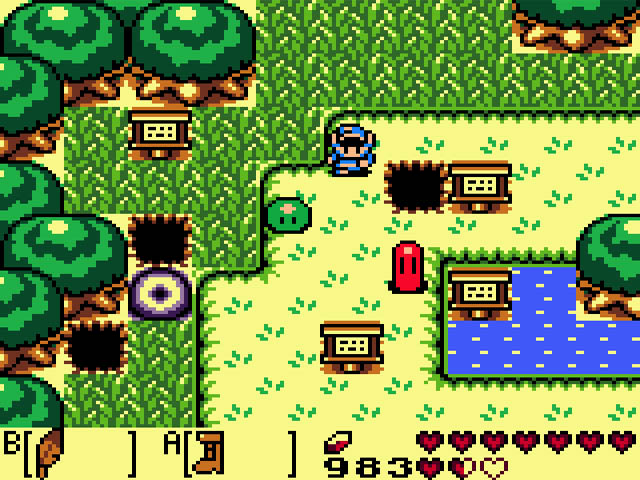 Link's Awakening is one of the only Zelda titles not to feature the Triforce, Zelda, Gorons, Zora's, or any other creature or part of the Hyrule storyline. Instead, and partly due to the fact that this was almost not a Zelda game, we see other characters such as Goomba, Kirby, Wart, a couple of Chain Chomps, and many others making cameo appearances. Link must try to discover the secrets of Koholint Island and collect eight magical instruments on his quest to wake the mysterious Wind Fish. And the best bit is that you can do it all in colour! There's also a secret 'Colour Dungeon' that you can find that gives you special powers, but I don't want to give too much away if you haven't played it yet. If you're looking for a handheld version of this game with the original top-down gameplay and graphics, then Links Awakening DX should definitely be in your collection.
3. Kirby Tilt 'n' Tumble
Not only is this game a puzzle-based title where Kirby has to tilt and tumble his way through different brain-tickling puzzles, but it's also the first handheld game to use a cartridge with a built-in accelerometer! Instead of players using the D-pad to move Kirby through challenges, they were able to move the GameBoy Color instead. This is the first example of a style of gameplay that would go on to make the Wii the most popular and best-selling console that Nintendo ever produced, as well as a key feature in the 3DS and Nintendo Switch Joy-con designs. Pretty exciting stuff!
This game has a feel of Super Monkey Ball about it, or maybe it's the other way around seen as though Kirby's Tilt 'n' Tumble came out first. Players must tilt and turn the console to guide Kirby to a goal at the end of the level. A countdown creates a sense of blinding-terror as the numbers tick closer to zero, but the time that you have left to complete a level can be increased by rolling the pink-peril over clocks or by passing certain checkpoints. Collect all of the stars and return Dream Land to a state of peaceful order and prosperity. If anyone can, Kirby can
2. Pokemon Gold/Silver
It was always going to be impossible to separate these two titles, so the next entry on our best GameBoy Color games list is a '2-4-1' special. Where do I begin; there's just so much to talk about when it comes to Gold and Silver. I always thought it would be hard to beat Red and Blue, but it turned out that the addition of 100 new Pokemon and a brand new region was all it took. These new stories took players around the Johto region on a quest to become the Pokemon master. The same premise as all of the other Pokemon games applies, i.e challenging Gym Leaders and filling up your Pokedex, but some of the new features and surprises that Game Freak installed in the games made 2001-me go crazy with excitement!
So what made Gold and Silver stand out? The game includes a real-time internal clock and is also the first time that we see Pokemon being able to hold items such as berries. Legendary Pokemon roamed around waiting for you to catch them, even though they always fled, but their health didn't go back to normal between encounters, keeping you coming back for more. We saw new Pokemon, new Pokeballs, and new Pokegear – basically, everything that would have made Red and Blue even better can be found in Gold and Silver. If you never had chance to play these games, then I URGE you to go back and give them a try.
1. Legend Of Zelda – Oracle Of Ages/Seasons
Yeah, I couldn't separate these two either. If you've read my articles before, then you won't be surprised that the Number 1 spot on our list of the best GameBoy Color games has gone to a Legend of Zelda title (or two in this case), and it's pretty fitting that after talking about Pokemon Red and Blue in the entry above, we now have an entirely different Red and Blue split adventure on our hands. Each game has significant differences, and only after completing them both does the player get a true picture of the storyline and the outcome of the adventure. Ages and Seasons sold just shy of 4-million units each; not bad eh!
So how do these games differ? Well, Link gets transported by the triforce to different areas in each game (there were supposed to be three games to go with the three parts of Triforce, but Nintendo scrapped one because the intertwining storyline was starting to get way too complicated). Ages sees Naryu send Link to Labrynna, and Seasons sees Din transport Link to Holodrum. The item and weapon collecting sequences that we know and love feature in both games, though different characters appear in each title. What's more, Seasons is more action-based, whereas Ages is more puzzle-based. Put them together, and you've got one hell of a Zelda game. Treat yourself and grab them both; they go together like Rito's and mail delivery (man I should get out more).
More Content From The Retro Dodo Team