If hands-on, energetic gaming is your bag, then the arrival of the Wii Classic Mini Console will be something that you'll already be eagerly anticipating.
The Wii was undoubtedly one of the most innovative consoles of our generation; that's something that you can't deny, whether you're a Nintendo fan or not.
Taking a simple action that most people use every day like pointing a remote at a T.V and turning it into a gaming device was a complete gamechanger. What's more, it was also the first step towards creating the joy-cons for the Nintendo Switch (a combination of the Wii's ingenious playing style and the controller/screen hybrid from the not-so-portable Wii-U).
The Nunchuck attachment made everyone feel like a Ninja and also made the gameplay in titles such as Skyward Sword so much more exciting. Swinging a controller to move a sword is still one of the coolest feelings ever!
Why We're Excited About The Wii Classic Mini Console!
We're all feeling incredibly excited by the prospect of the upcoming N64 Mini and the Gamecube Mini because their parents were two of the most important consoles ever. They brought some of gaming's most impressive characters to the fold, for crying out loud!
But if we were to go by numbers and sales alone, then the Wii Classic Mini console would be the most hotly anticipated Mini Classic console of all. Sure, the Dreamcast Mini is an exciting concept and the SEGA Mega Drive Mini allows us to relive classic games of yesteryear.
Still, the Wii has sold over 100-million copies since its release in 2007. 29-million of those sales came in 2009. That was the year that I tried to buy one and couldn't find one anywhere. I had to bunk off school and get a train to a city an hour away to buy one…
… If you're my old headmaster and are reading this, which I can't imagine that you will be, then I'm sorry.
Thirteen years on and, although production of the console has stopped, games are still being made for the Wii because people just refuse to put it to bed! The latest Just Dance title, 'Just Dance 2020' even made an appearance on the Wii! If only the Wii-U still had that kind of interest!
What will Nintendo have to do to up the stakes and make their most popular console even more of a hit with new audiences? Can they add new features to meet the ever-changing demands of the gaming world?
Let's get our geek on and find out!
What Games Will The Wii Classic Mini Console Have?
The Wii was the first Nintendo Console to use standard-sized discs. This felt a little weird after using cartridges and super small discs for so long, but Nintendo likes to keep mixing things up and keeping us gamers on our toes.
One of the best things about the console was the backwards compatibility for GameCube games. A nifty flap on the top of the console revealed four controller ports that you could hook up to when playing some of the best GameCube games like Super Mario Sunshine and Mario Party 4.
If the Wii Classic Mini console were to utilise the entire Wii back catalogue as well as some of the classic GC games, then it would be insanely hard to choose just 30 of the best titles to include in an all-in-one unit.
Link and Mario would both have to feature in their respective titles as well as featuring together in Super Smash Bros Brawl. I could make do with just those 5 games, but that wouldn't make for much of a Classic Mini console.
The Wii was synonymous with couch-co-op and living room multiplayer fun with games such as Wii Sports, Mario & Sonic at the Olympic games, Mario Party, Wario Ware Smooth Moves, and many more. I think we can expect to see a multiplayer-heavy selection of titles up there for sure.
Gaming is still much more fun with your mates right there with you, so having all of your favourite button-mashing titles in one place could only ever be a good thing.
Better Options For Mii Characters
I'm not suggesting that we should give them voting rights or better wages or anything here, but with apps such as Bitmoji and Animoji becoming ever more popular with smartphone users, it would be nice to be able to hook up your phone to your Wii Classic Mini Console and transfer your avatar to apps like Facebook Messenger, WhatsApp and more.
You could even earn Wii Fit Points when you transferred your portable pal back to the console if you had covered lots of steps or been on a particularly long jog.
That would help shut the snarky Wii Fit board up whenever it tells you that you've put on a few pounds or to step on it 'one at a time'.
No wonder it doesn't have any friends…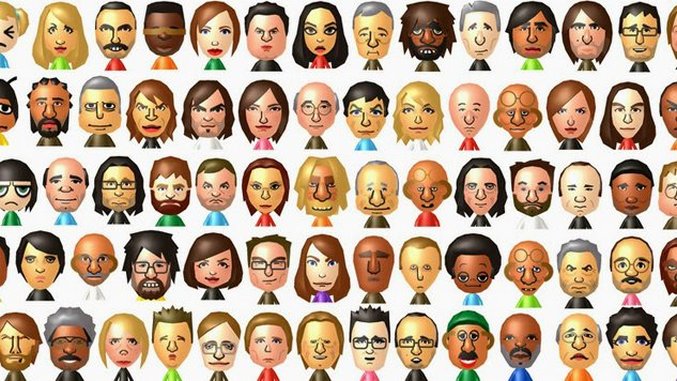 There was an option for swapping and trading Mii's in Mii Plaza, but I'm not sure whether it ever took off. The idea kind of felt like a more toned-down version of the Chao Garden in Sonic Adventure 2 Battle,
The only thing I ever really did was to recreate the likeness of famous musicians so I could stand next to John Lennon or Jimi Hendrix while trying to get a strike on Wii Bowling.
And let's not forget the classic Mii Plaza music – that should replace the national anthem, in my opinion.
Can The Wii Be Made Any More 'Wee'?
The Wii was already a pretty streamlined console when it came out in 2007. users could store it in an upright position thanks to the included stand or in a horizontal position on top of the Sky TV box or the DVD player.
In a dramatically different way to the PS2 Mini which takes the best features of the PS2 console and shrinks them down like a gaming science experiment, the red and black Wii Mini console complete with disc drive that was released in 2013 in the U.K and the United States looks more like an external hard drive than a console.
It was smaller than the original console but didn't have the same quirky shape or any new features that made existing Wii owners want to upgrade.
With the disc-drive removed, the new Wii Classic Mini console could end up being even smaller than a Nintendo Switch dock.
Without the GameCube memory card and controller ports to worry about and instead opting for using the Wiimotes to control all gameplay on both console original and classic titles, the gaming giants could really produce a smart-looking console worth talking about.
That would make taking it round to your mate's house to boast about how much better at Smash Bros. you are than them much easier.
Upgrading The Wiimote
The original Wiimotes had a built-in accelerometer as well as the standard features that you would expect on a gaming controller. It came with a D-pad, A & B buttons, and the inclusion of the + and – buttons which gave the remote more of a television controller vibe.
It was an ingenious design that allowed people who had never plugged in a games console in their lives to be instantly able to have a go at games with family members on special occasions.
Let's face it; nothing says 'I love you' like putting your shoulder out while playing Wii Boxing.
I always used to laugh at my dad when he moved the N64 controller like it was a wheel when playing on Mario Kart 64, but thanks to the Wii Wheel and Mario Kart Wii, people all over the globe could get in a bit of driving practice while firing blue shells and bananas at Bowser and his pals.
How We Would Redesign The Wiimote
The Wii Plus Remote came with a built-in Gyroscope which allowed users to play games such as Skyward Sword. The Wii Classic Mini console remotes would have to come with this technology built-in from the get-go, without a doubt.
It would also be nice if the speaker wasn't as tinny as the ones in the first controllers. They will need wrist straps as standard to reduce the risk of smashing your T.V screen, and less slippy Nunchuk attachments would be a nice feature too.
In an age where we all more conscious about being green and helping the environment, it would also be nice to reduce the number of AA batteries that you had to go through when playing your favourite games.
Putting the planet aside, trying to rummage around in your drawers to find a battery with enough life for you to be able to finish your level or get in one last goal on Mario Strikers Charge was another stressful game entirely!
Rechargeable controllers are therefore a must to be able to save the planet and your own mental well being.
It is possible that we could also see a Nintendo Switch Pro Controller style gamepad for the Wii Classic Mini console, but that kind of detracts from the point of the console.
Sure, lots of gamers use the universal controller format shared by Playstation, Xbox, and Nintendo, but the Wii stands alone as a bit of a maverick in the gaming world.
Would a pro controller be a nice feature to see? Let us know on Facebook, Twitter, or Instagram!
Saying Goodbye To The RCA Cable
The standard resolution on the Wii was 480p, which is the same resolution as the GameCube. It is already possible to upscale your Wii display to 720p and even 1080p with the right HDMI converter, but who wants to be messing around with all of that faff?
The Wii Classic Mini console needs to match consoles like the Warrior 64 when you plug it into your T.V. We're talking no upscalers or extra adapters needed.
That would make playing Goldeneye and Twilight Princess even more enjoyable. Bish bash bosh – sorted.
Wii-Fi Connectivity
See what I did with that title?
The Wii already had the ability to hook up to the internet to give you access to the Nintendo Store and to download certain apps such as YouTube and iPlayer.
You could also check the weather forecast out on there too, because sometimes turning your head to look out of the window is just too much exercise to handle after you've put in a few rounds of Wii Tennis.
So how else could Nintendo improve the Wii's online features with the Wii Classic Mini console?
The obvious answer would be to have the option to play the same retro games and access the same features that subscribers to Nintendo Online can get on their Switch and Switch Lite consoles.
Why Haven't We Seen A Wii Classic Mini Console yet?
We've touched upon this in some of the other articles on upcoming mini consoles, and the same reasons apply for the Wii Classic Mini console.
The technology just isn't available to make a cheaper Wii with games already built into it yet. It's the reason why some of the best retro handhelds can only cope with games up to PSP, and even then, some of them struggle.
This is why people are turning to online platforms like the best Nintendo Switch emulators, although there are a whole host of legal issues there that could fill an entirely separate article…
If Nintendo were to create a console that emulated some of these massive games perfectly right now, then it would cost them a small fortune and us an even bigger one to purchase it.
But don't despair. It only seems two minutes ago since we were plugging in 1MB memory cards into computers. Now we have 1TB flash drives that are the size of your thumb.
It won't be long until this technology is available, and in the meantime, we can sit and dream of our perfect Wii Classic Mini console.
Final Thoughts . . .
It's hard to improve on a company's best selling console, but there are always things that can be tweaked and accessories that can be included as standard when said console joins the Classic Mini series.
The Wii was an absolute pleasure to play on and the Wii Classic Mini Console will be no different.
Essentially, all I want to see is a device where I can play my favourite Zelda titles in HD while waving a controller around my head as though I'm charging into battle.
Maybe I should be holding out hopes for the 'Zelda Mini' or 'Linktendo' instead, especially now a new Zelda game is being rumoured for 2021!
If the Wii Classic Mini console comes with everything that I've mentioned above, then I imagine that a lot of gamers will be running to their nearest store to pick one up. The price will really come down to which games are included in the all-in-one bundle.
Personally, I think that we might be looking at a final cost of around £100 for the Wii Classic Mini console, which would be the best £100 pound ever spent, hands down.
All we can do now is wait and pray to the giant genie in Mario Party 4 that our wishes will be granted. Until then, crank up your old Wii and wipe the dust off your Nunchuks; it's time to show that Wii Fit board who's boss!
More Content From The Retro Dodo Team!
This article may contain affiliate links. If you use these links to purchase an item we may earn a commission. Thank you for your support.
Seb Santabarbara has bought every Nintendo console that has ever been released in his 33 years on Planet Earth. His favourite game franchise is Zelda, and he's patiently waiting for Banjo-Kazooie to come back to the fold. When he's not playing games, he's travelling the world in his self-converted camper van.