There are very few things more exciting to retro gaming fans than an updated version of their favourite console, which is why news of the Hyperkin Ultra Retron is making fans of Mario, Zelda, Banjo, and all of the other best N64 games feel like it's Christmas 1997 all over again. Just what is it about this classic Nintendo console that sends us into a frenzy? Sure, the change from 32 to 64 bit blew our minds and getting the chance to see our favourite characters in 3D glory was out of this world, but the love of the N64 is more than just holding the device in your hands; it's a feeling.
Unless you've skulked in a bunker with an AK-47 while playing Goldeneye or ridden Epona through the rolling fields of Hyrule while battling Stalchilds, then you probably won't understand how amazing this console is. It brought some of the best-known names to the top of the gaming world, and it was the first console to bring 4-player couch co-op gaming without having extra add-ons or additional console-hook-ups. This (and a whole lot more that we don't have time for), is why I am excited to be writing about the Hyperkin Ultra Retron, an updated version of my favourite console from Hyperkin, the same minds that set about creating the Hyperkin Wireless N64 Remote for those ultimate Super Smash Bros. brawls.
Getting To Grips With The Hyperkin Ultra Retron
It might not sound as catchy as the N64, and you certainly can't make a cool rotating logo out of the name. Having said that, it does sound a little bit space-agey and futuristic, which I suppose in a way, it is. Hyperkin is a gaming hardware company. They design and develop updated versions of consoles and new accessories for multiple gaming platforms; think of them as a business that caters for gamers of all ages, through the ages.
The Hyperkin team are a prime example of how retro gamers don't just love holding on to the past, but they how also won't rest until they make their favourite consoles the best that they can be. This is why I love the Retro Dodo community; you are constantly coming up with new ideas on how to teach future generations about the consoles that started everything off, and we commend you for that!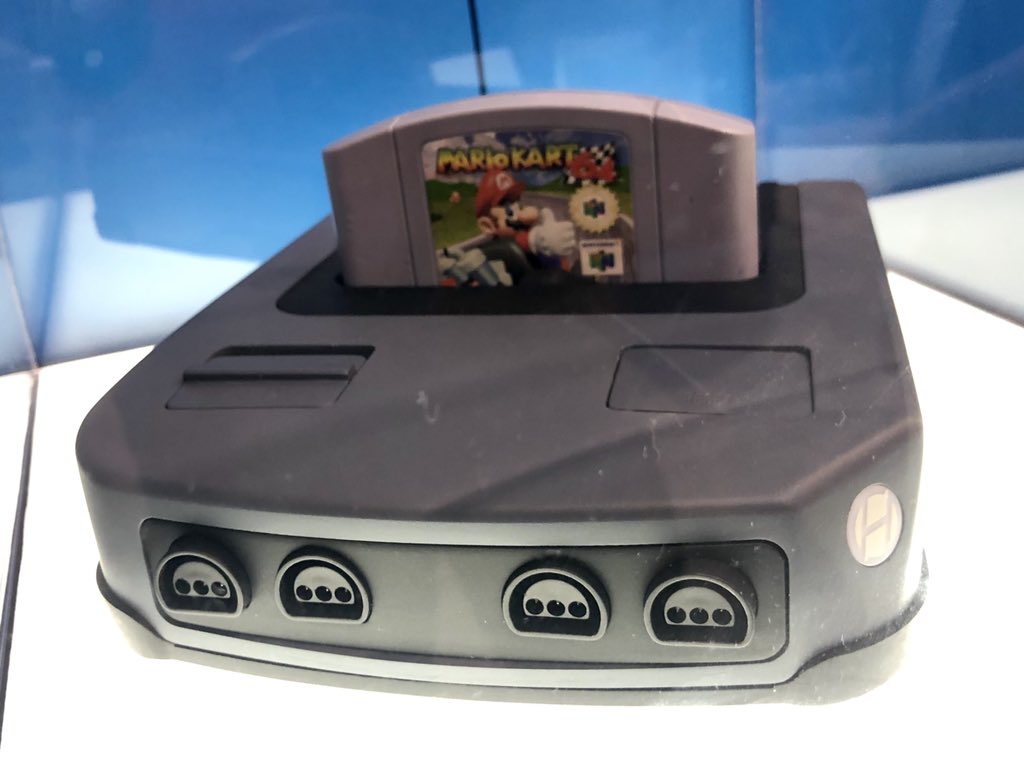 Anyway, back to the Hyperkin Ultra Retron. The console itself has a very similar feel to the N64, although it's nowhere near as rounded. It's as though someone has seen the design for the new Tesla Truck Camper and decided to straighten out some of those lovely round curves that we've come to know and love. The overall premise is the same, however. The reset and on buttons look a little bigger than on the original unit, and there is no space to stick an Expansion Pak in (not that you'll need it).
The Hyperkin Ultra Retron benefits from the same 4 controller ports on the front of the unit itself, allowing you to use either original Nintendo controller hardware or some of the newer controllers from Hyperkin. The Admiral wireless controller seems the perfect fit to go with this new console and, while some have described the wireless set up as looking like a bit of a monstrosity, I think it is a great way of bringing wireless-play to a machine that would never have had the capabilities. It's like interfering with evolution and giving the Dinosaurs a Just Eat account so they could get over the whole 'no food, time to die' thing. It's smart, and Hyperkin will be the ones riding T-Rexs to the drive-thru.
The Hyperkin Admiral Wireless Remote in action. That thing on the left-hand side is the bluetooth recievever and also has an area to stick your old memory packs into, to pull up existing save files. You can also save your games to a Micro SD card too. Pretty neat, right?
So How Does This Thing Differ From My N64?
The Hyperkin Ultra Retron is essentially going to be a clone console. What that means is that it can play and indeed relies on original N64 game cartridges for operation, but it upscales them and displays our favourite titles in 720p HD via the built-in HDMI out on the back. That means that you won't ever have to mess around finding one of those RGB Scart adapters ever again when you want to play your favourite games.
There is talk, however, that Hyperkin is unsure as to whether they will go down the clone console route or whether they will, in fact, choose an Emulation based path. Early video footage of the test consoles in action looks pretty good, however, there is the same kind of lag in some areas that is consistent with the problems that users of Mupen64 have experienced while emulating their favourite games. There have been some issues, like the example on the picture below for instance, where game features like the TV screen above the tunnel on Mario Raceway look pixelated and sometimes disappear completely. This might not seem like such a big deal, but when it's something like a piece of track or a door on a level that goes missing, then that's where problems start to arise.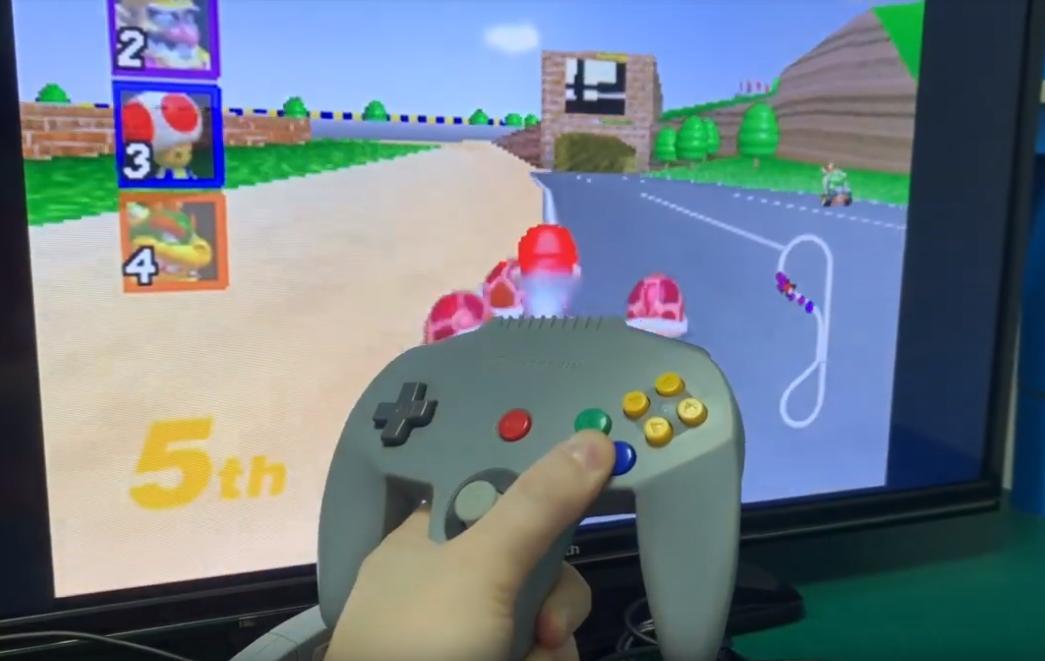 If the Hyperkin Ultra Retron doesn't have great framebuffer emulation settings, then this could prove to be a problem if the company do go down the emulation route. This is why it's so tough to get a great N64 emulator these days, and while some titles may work perfectly, others end up with annoying camera glitches or become unplayable after a few levels. For Hyperkin's sake, I hope that they go down the clone console route and provide a solid platform for upscaling our old games. Playing Goldeneye on a widescreen TV on the original Nintendo looks like you're having a bad Minecraft style nightmare, so it would be great to play these titles in HD.
Where Do We Go From Here?
Hyperkin said in a statement that they are working towards creating the best possible output picture at a good price point, which is all that we can hope for at this stage. In all honesty, I'm not sure when we're going to see the Hyperkin Ultra Retron being installed into living rooms around the globe. I also wonder if Nintendo is keeping a close eye on clone consoles and emulators like this in a bid to figure out if any of them have any solid ideas that they can implement into the N64 mini. It's bound to happen sometime soon, what with the SNES and SEGA Genesis mini consoles already on shelves and rumours of a Dreamcast Mini hitting the internet every other day.
I guess the question we need to ask ourselves is this; do we really need the Hyperkin Ultra Retron? Can we make do with a small television to play our favourite classic N64 games on, keeping the same quality and charm of the original titles without losing key elements of the developers hard work due to a poor framebuffer emulation rate? Sometimes playing games the way they were intended can be the best route to go down if the gameplay becomes compromised in the process; I don't think I could bear to see Donkey Kong with half a tie or Banjo looking up at jigsaw paintings with no pictures on them. Say it ain't so!
As of this moment right now, we don't have a release date or a price for the Hyperkin Ultra Retron, but judging by other products on the Hyperkin site such as the RetroN 2 HD console for NES and SNES games, we're probably looking at around a $150 price point. The N64 console originally released at $199.95 with a controller included, so this would seem about right. If I were to purchase one for myself, I would have to go the extra mile and add on the Admiral wireless controller, which would put another $40 onto the overall price.
Final Thoughts…
So, only time will tell what happens with the Hyperkin Ultra Retron. It has the potential to be a great addition to the retro gaming console catalogue, just so long as it doesn't mess with important features in our classic games. I remember my frantic and unsuccessful eBay searching to find the cable that makes the GameCube HD for playing on widescreen TVs, so having a clone console that ships with 720p HD would take all that stress away.
My advice to Hyperkin would be to take your time and to get things 140% right before launching this thing. As a member of the original N64 Christmas '97 Crew, I implore you to stay as true to the original machine as possible or to otherwise leave it the heck alone. The last thing we need is another Banjo-Tooie ice key style disappointment to wrench our fragile gaming hearts open all over again. Think of the children! (and the overgrown kids too).
This article may contain affiliate links. If you use these links to purchase an item we may earn a commission. Thank you for your support.
Seb Santabarbara has bought every Nintendo console that has ever been released in his 33 years on Planet Earth. His favourite game franchise is Zelda, and he's patiently waiting for Banjo-Kazooie to come back to the fold. When he's not playing games, he's travelling the world in his self-converted camper van.